May Tells Lawmakers She's Not Going to Reveal Her Brexit Goals
by
Pledges 'sober and considered' approach, without rushing

Warns that the U.K. won't 'show our hand prematurely'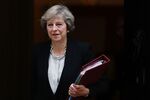 Theresa May told British lawmakers to stop trying to draw out details of her government's Brexit negotiating position, arguing that public discussion of her goals would undermine her as she goes into talks with other European Union leaders.
The prime minister on Wednesday opened what was supposed to be a statement to Parliament on this week's Group of 20 summit with an attempt to shut down speculation on questions such as whether she's trying to keep the U.K. in the EU's single market.
"We must also think through the issues in a sober and considered way," she said. "We will not take decisions until we are ready. We will not show our hand prematurely. And we will not deliver a running commentary on every twist and turn of the negotiations."
May was speaking two days after her Brexit Secretary, David Davis, told Parliament the government wanted to "build a national consensus around our negotiating position." He proposed to do this by consulting as widely as possible. The same statement revealed the problems with such a process, as Davis was interpreted as saying Britain would leave the single market. May's office the next day denied that this was policy.
The prime minister had set out as much of her position as she was willing to reveal earlier, during her weekly questions session. "The U.K. will leave the EU," she said. "And we will build a new relationship with the EU. That relationship will include control of the movement of people coming to the U.K. And it will include the right deal for trade in goods and services."
As opposition lawmakers tried to get more detail about her goals, May was frank about their chances. "People ask me a question, they get an answer," she said. "If they ask the same question, they get the same answer."
Before it's here, it's on the Bloomberg Terminal.
LEARN MORE