Libertarian Johnson Makes Western Advertising Push Ahead of First Debate
To be included, Johnson needs an average score of 15 percent or higher in national polls leading up to the Sept. 26 event.
By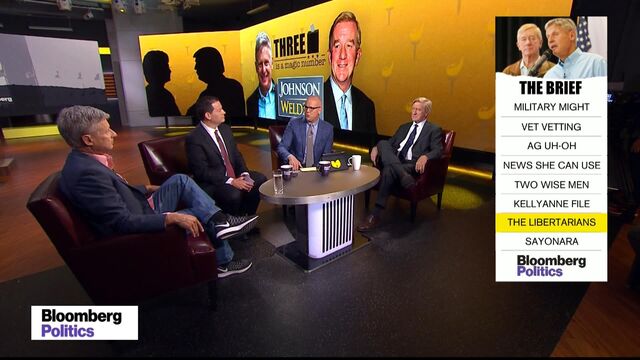 In a bid to propel his candidacy onto the presidential debate stage later this month, Libertarian Party nominee Gary Johnson is deploying an unusual advertising strategy to help him meet requirements for participation.
The former New Mexico governor on Tuesday launched his first television ads of the 2016 campaign, almost exclusively targeting western states where libertarianism has stronger roots.
Johnson's long-shot campaign has placed orders for advertising in the states of Nevada, Oregon, Utah, New Mexico, New Hampshire, Colorado, and Washington, according to data from Kantar Media/CMAG. Only about half of those states are traditional battlegrounds and just one—New Hampshire—is outside the western U.S. 
The new advertising buys, minuscule when compared to those made by Democratic nominee Hillary Clinton and Republican nominee Donald Trump, appear timed to try to boost his standing in polls ahead of the debate qualification deadline.
Johnson's television reservations for this week represent an estimated $174,000 in spending, the Kantar Media/CMAG data shows. By comparison, Clinton has $5.2 million in broadcast TV orders placed this week, while Trump has $2.4 million reserved.
To be included in the first debate, Johnson needs to average 15 percent or higher in national polls leading up to the first forum on Sept. 26 at Hofstra University in New York.
His new ad talks about his goal of abolishing the Internal Revenue Service and replacing the income tax with a consumption tax. It features both Johnson and his running mate, Republican former Governor William Weld of Massachusetts.
"Everything we are doing on radio, television and the Internet is geared toward increasing awareness of the governors, and with that awareness, upward movement in the polls," Joe Hunter, a Johnson-Weld campaign spokesman, said in a statement. "As far as the states included in this initial TV buy, the targeting is based on a number of factors, from propensities toward independent voters, the relative popularity of the other candidates, and media markets."
As it stands now, Johnson wouldn't make the debate stage. He's polled at between 7 percent and 12 percent in recent national surveys.
Hunter said the Kantar Media/CMAG estimates for the week are lagging behind actual orders that, as of now, total more than $500,000 for this week.
Prior to this week, Johnson has advertised exclusively on radio, where he's spent an estimated $1.2 million in 25 states since clinching his party's nomination in late May.
Ken Goldstein, a University of San Francisco professor who is a Bloomberg Politics polling and advertising analyst, said he's struggling to understand Johnson's advertising strategy.
"For the major party nominees, the game is an Electoral College one, targeting the swing states to get to 270," he said. "That means eschewing big populous states like California, New York, and Texas, where the outcome is not in doubt. For Johnson, the game should be all about getting 15 percent in national polls—and for that he needs to advertise nationally and in the big states."
At least for now, Johnson doesn't have any broadcast television advertising space booked after Sept. 19.
Before it's here, it's on the Bloomberg Terminal.
LEARN MORE