Russia Says Syria Meeting Still On as U.S. Casts Doubt
By and
State Department denies two sides will meet to clinch deal

Russia said Kerry, Lavrov would meet for two days in Geneva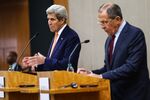 Russia said it's preparing for talks on a Syrian cease-fire deal between Foreign Minister Sergei Lavrov and U.S. Secretary of State John Kerry in Geneva, even as the State Department insisted there are still too many issues to resolve to merit a meeting.
While details are still being worked out, Russia's position is that the Sept. 8-9 meeting has been agreed on, Foreign Ministry spokeswoman Maria Zakharova told reporters in Moscow Thursday.
"There are still challenges to be resolved, and we're working hard to resolve them," Deputy State Department spokesman Mark Toner told reporters in Washington on Wednesday, adding that he does expect the two to meet at some point. "We wouldn't still be doing it if we didn't believe there was some hope for success, but I can't say that there's a big hope for success.."
The conflicting messages were only the latest evidence of how much Washington and Moscow remain at odds over a cease-fire deal aimed at easing Syria's humanitarian crisis and paving the way for a political solution to end its 5 1/2-year civil war. The two sides had hoped to conclude a deal in Geneva almost two weeks ago and then again over the weekend in China, where world leaders had gathered for the Group of 20 summit, but came away empty-handed. In China, U.S. officials said Russia had backtracked on earlier agreements.
Compromise Talks
There are an "insignificant" number of issues to be decided for a compromise agreement on Syria and talks with the U.S. are continuing, Kremlin spokesman Dmitry Peskov told reporters on a conference call Thursday.
Toner was responding to a Foreign Ministry statement late Wednesday that said Kerry and Lavrov had agreed to hold two days of talks that they hope will allow them to join forces in combating terrorists, expand humanitarian aid to civilians caught up in the war and restart peace negotiations. Lavrov and Kerry spoke by phone earlier that day, Toner said.
For a QuickTake on Syria's Civil War, click here
Even President Barack Obama and his Russian counterpart, Vladimir Putin, who met for more than an hour on Monday to try to reach a deal, don't seem to see eye-to-eye. In a Sept. 1 interview, Putin said the two sides were "gradually heading in the right direction." Speaking at the G-20 meeting in Hangzhou, China, Obama was more downbeat.
'Tough Negotiation'
"Given the gaps of trust that exist, that's a tough negotiation and we haven't yet closed the gaps in a way where we think it would actually work," Obama said Sept. 5.
The civil war in Syria has killed more than 280,000 people and sent millions fleeing to neighboring countries and Europe. It has also let Islamic State seize territory that it's used as a base to direct and inspire terror attacks worldwide. A partial "cessation of hostilities" in Syria brokered by the U.S. and Russia in February quickly broke down, and broader talks in Geneva over a political solution to the crisis have stalemated.
Russian Warplanes
Highlighting the challenge in finding common ground, the U.S. is arming opposition groups seeking to oust Syrian President Bashar al-Assad and has special forces on the ground. Russian warplanes have helped Assad reverse earlier losses since Putin ordered them to begin airstrikes last September.
The U.S. has proposed sharing intelligence with Russia to carry out strikes against the al-Qaeda affiliate in Syria, the Nusra Front, now known as Jabhat Fatah Al-Sham. Under this plan, Syria's air force would be grounded in parts of the country in an effort to halt the humanitarian crisis and end bombing of moderate opposition groups, while the various parties would come to the table for talks on a political settlement.
Part of the challenge is that Assad continues to make gains with each passing day, particularly in the shattered northern city of Aleppo, so Russia has no incentive to come up with a deal that would impose a cease-fire, according to Robert Ford, a former U.S. ambassador to Syria who's now a senior fellow at the Middle East Institute in Washington.
"The chances of an American-Russian deal are getting smaller, not bigger," Ford said. "The Syrian government is not prepared to compromise with the moderate opposition, and that's why there's still fighting in Aleppo. The Russians are not prepared to push Assad to make those compromises -- they never have been."
Assad's forces, backed by pro-Iranian Hezbollah militia and Russian air power, this week restored their siege of the rebel-held eastern part of Aleppo that was broken last month, the Syrian Observatory for Human Rights said. Syrian troops and their allies also retook almost all the territory lost since a July 31 rebel offensive in south and southwestern Aleppo province, according to the SOHR, which monitors the conflict through activists on the ground.
— With assistance by Dana Khraiche, Jake Rudnitsky, and Stepan Kravchenko
Before it's here, it's on the Bloomberg Terminal.
LEARN MORE