John McAfee Name Is Enough to Keep MGT Aloft After 10-Fold Rally
by and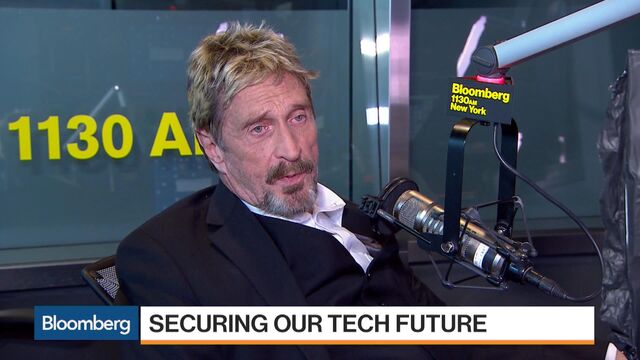 Zero revenue and a long record of losses is proving no hindrance to bulls on MGT Capital Investments Inc., a stock that has spent almost four months clinging to gains from a 10-fold rally that followed the hiring of John McAfee.
Though something less than a megacap with an $87.7 million market value, gone are the days when the Harrison, New York-based company was condemned to a penny stock existence. MGT surged above $3 in May and has barely budged since after saying it planned to bring on the anti-virus guru as chief executive to change it from a video game maker into a cybersecurity firm.
Short interest has also proven durable in MGT, which listed no revenue in a quarterly update published Aug. 16 and a net loss of $6.1 million that swelled from less than $1 million a year ago. A day earlier, in a filing with the government, MGT said its history of losses cast doubts on its ability to continue as a going concern and noted that its current CEO doesn't think the company's disclosure controls and procedures are functioning effectively.
As is true with many a microcap, a spirited debate is occurring on internet stock sites among fans and detractors of MGT, with bulls pointing to McAfee's hiring and the pending acquisition of something called D-Vasive Inc., a Wyoming company that MGT says is developing "anti-spy" applications. A statement from McAfee in the press release said the company would "move forward on several of the proposed events" following a shareholder vote on Sept. 8.
"This company is trying to play on cybersecurity and McAfee's brand name, but where is the technology that will make it viable?" Gur Talpaz, an analyst at Stifel Nicolaus, said by phone. He covers bigger industry players such as Symantec Corp. and Proofpoint Inc. "MGT is looking at the big themes in the space and trying to latch on to that, but you cannot just overnight become a cybersecurity firm. This is a hyper-competitive space."

MGT's plan to capitalize further on McAfee's name -- it intends to rebrand as John McAfee Global Technologies Inc. and install him as CEO following a Sept. 8 shareholder vote -- might not be that simple. McAfee last week sued Intel Corp. for the right to use his name in new ventures. He says Intel warned him that any use of his name will infringe on the company's trademarks that it acquired when it bought his company in 2010, according to his complaint filed Friday in Manhattan federal court.
Security Apps
MGT otherwise appears to have little by way of fully developed cybersecurity assets. It acquired on May 9 D-Vasive, branded as "by John McAfee." The app is currently listed as being available from Future Tense Secure Systems Inc., a security and privacy company founded by McAfee. Future Tense has a consulting agreement with MGT, which also has a relationship with a cybersecurity platform called Demonsaw LLC through D-Vasive.
For now, investors are betting almost solely on McAfee, the 70-year-old entrepreneur who's been mentioned more in the tabloids than in the tech press in the five years since he sold his company. His hiring prompted a 1,000 percent run-up in the seven days following the May announcement. The stock has given up some of that advance, yet at $3.39 as of Tuesday, it's still 975 percent higher than at the end of April.
Turning Heads
MGT's current CEO, Robert Ladd, wouldn't provide any details of the planned business beyond saying MGT intended to develop its own technology. When asked about the company's eight-fold jump in valuation, Ladd said, "McAfee's brand value is very high."
"Whenever a successful investor makes an investment in a name, it turns peoples' heads," said Matt Maley, an equity strategist in New York at Miller Tabak & Co LLC. "That's when you get people buying it, and more importantly, the sellers disappear.
In the five years since McAfee sold his company, he's declared his candidacy for president, and in 2012 was the subject of a manhunt in Belize by police investigating the murder of his neighbor. McAfee moved to Guatemala, where he was detained and released before returning to the U.S. and proclaiming his innocence.
His pending appointment as CEO has helped MGT sustain its share price strength even after repeatedly including language in quarterly filings saying that profit losses could threaten the company's ability to continue.
Substantial Doubt
The most recent instance was in August, when it said there's "substantial doubt" that the company will keep operations afloat. The filing also said the company's disclosure controls may not provide timely or accurate descriptions. In an interview with Bloomberg News, Ladd called the language in each section accounting formalities and not any cause for concern.
While the shares declined as much as 6 percent in the 3 days after the filing, such a price swing isn't necessarily out of the ordinary. The stock's daily moves averaged 4 percent for the past 3 months. Short interest spiked to 4.5 percent of shares outstanding at the end of July from less than two-10ths of a percent three months earlier, according to data compiled by IHS Markit Ltd.
Beyond McAfee, MGT says in press releases that it recently hired a host of advisers with backgrounds in cybersecurity and ties to the electronic currency Bitcoin, including Roger Ver, Bryan Seely, Erik Voorhees and Bruce Fenton. The company issued 14 statements in June alone, announcing several personnel appointments, creation of advisory boards and McAfee's participation at technology conventions. The shares rose 40 percent that month.
Watch Next: John McAfee: Our New Products Catch Hackers in Seconds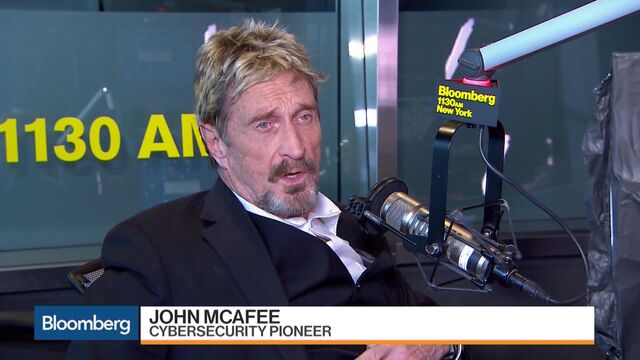 Before it's here, it's on the Bloomberg Terminal.
LEARN MORE