Japan's Mizuho Plans Saudi Expansion as Aramco IPO Tempts Banks
by
Plans to boost advisory services, eyeing Japanese investors

Sees five-fold jump in debt capital market deals since 2015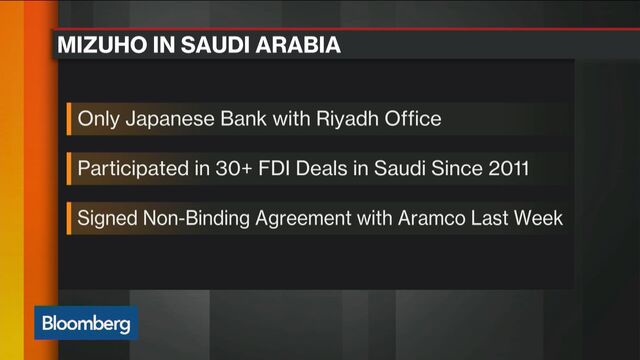 Mizuho Financial Group Inc., the fourth-largest lender to Saudi Arabia, is expanding advisory services in the kingdom, as banks jockey for a role in Saudi Aramco's expected $100 billion initial public offering.
"We are moving from being a leading lending bank to Saudi Arabia to becoming much more of a partner to the kingdom by advising and assisting Asian investors," Hidefumi Takeuchi, who oversees the Middle East, North Africa and Central Asia for Japan's third-largest lender by market value, said in an interview in Dubai.
Japanese banks are building up business overseas to counter slowing loan demand and sub-zero interest rates at home. Mizuho has participated in more than 30 foreign direct investments in Saudi Arabia over the past five years.

Mizuho is looking to take on more advisory roles in connection with Saudi Arabia's privatization plans and potential mergers and acquisitions, Takeuchi said. As the only Japanese bank with an office in Riyadh, it is in a "very advantageous position" to help Japanese companies invest in Saudi businesses, he said.
Mizuho and two other Tokyo-based lenders -- Mitsubishi UFJ Financial Group Inc. and Mitsui Financial Group Inc. -- signed a non-binding agreement with Saudi Aramco last week to cooperate on business.
Saudi Arabia plans to sell shares in the state oil company as early as next year to help finance a drive to diversify the economy. The kingdom also wants to sell its first sovereign bond as soon as October.
Changing Focus
Flush with the proceeds from the Bank of Japan's bond purchases, Japanese lenders are hiring and increasing business lines in the Gulf region to deploy funds. Mizuho is scaling back on financing for projects and establishing itself as a broader debt platform. 
Since the start of April, the bank has carried out 20 financing and debt deals for regional clients and says it has more than 50 others in the pipeline. That has catapulted Mizuho to fourth place in Bloomberg's ranking of lead arrangers for loans in Saudi Arabia, up from 13th in August last year.
"Longer-term financing needs a lot of capital," Takeuchi said. "We want to use our balance sheet in a more efficient manner, so we are doing more forex, derivative, fixed income, asset management, advisory."

With China looking less attractive as an investment destination and demand for debt in Southeast Asia subdued, Asian investors are increasingly drawn to the Middle East.
"Longer-end appetite for debt is coming from areas such as Taiwan and Korea and slightly shorter-end coming from areas such as China," Takeuchi said. "Right now the Middle East is very, very promising."
Before it's here, it's on the Bloomberg Terminal.
LEARN MORE