business
Iran Oil Recovery Lowers Hurdle to Global Deal on Output Cap
By , , and
NIOC's Ghamsari says output is shy of 4 million barrels a day

Iran's joining any output freeze is now up to oil minister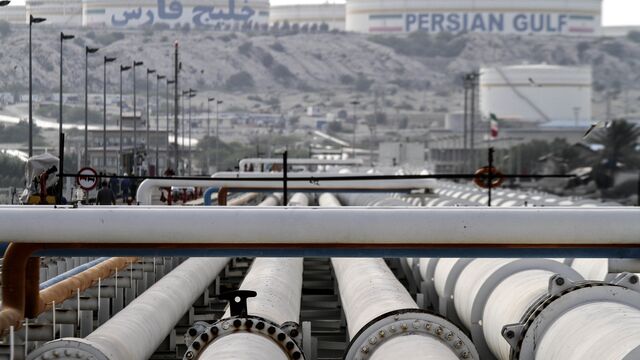 With Iran's oil production closing in on pre-sanctions levels, the world's biggest crude suppliers may face a lower hurdle to an agreement on freezing output to revive prices.
The Persian Gulf nation is pumping 3.8 million barrels a day, approaching its daily target of 4 million barrels, Mohsen Ghamsari, director for international affairs at the National Iranian Oil Co., said Wednesday at a conference in Singapore. He said earlier in the week that Iran could reach its target in two to three months.
Members of the  Organization of Petroleum Exporting Countries will hold talks with producers from outside the group, including Russia, during a conference in Algiers at the end of the month. Some ministers have called for an agreement to cap output in a joint effort to prop up crude prices amid a global glut. A previous attempt to freeze output in April fell through when Saudi Arabia insisted that Iran participate even though the country was producing less than it did before world powers tightened sanctions on its economy. Iran is now much closer to its production target.



"When Iran reaches current full capacity, it will likely be more open to joining a production freeze agreement with the rest of OPEC and Russia," said Jens Naervig Pedersen, an analyst at Copenhagen-based Danske Bank A/S. Even so, he said, any such accord "would mostly be symbolic as it would only serve to preserve the status quo where everyone pumps at maximum speed."
Saudi Arabia and Russia, the world's top two crude-oil producers, pledged on Monday to cooperate to stabilize global markets, while failing to announce any specific measures to bolster prices.
"Iran is close to the 4 million target, but the freeze is a political decision," Ghamsari said, referring to Oil Minister Bijan Namdar Zanganeh. "We are now close to previous production levels, so now it depends on the minister's decision."
Iran will export about 2.2 million barrels a day of crude in September and maintain that level until the end of the year, Ghamsari said. Exports of condensates stand at 100,000 to 150,000 barrels a day, he said.
New Contract
The U.S. and European Union tightened sanctions on the Islamic Republic in 2012 over its nuclear program. Cut off from global oil markets, Iran's production fell to around 2.5 million barrels a day compared with more than 4 million in mid-2008. The country has boosted output quickly since the easing of sanctions in January, though additional increases may be a challenge without international investment and technology.
"Since early August, Iran has a new oil contract intended to attract foreign investment and expand the country's production capacity further," said Harry Tchilinguirian, head of commodity markets strategy at BNP Paribas SA. "So in the end, Iran may play along with a freeze only once its maximum output is achieved, to only later increase supply once investments delivers incremental production capacity."
Iran approved a new contract model last month to try to attract billions of dollars of investment in its oil industry, and the government plans to offer development rights to several fields in coming months. Iran plans to add 250,000 barrels a day of West Karoun heavy grade crude by the end of the year, Ghamsari said.
"From now on, Iran plans to increase its production gradually, just in line with market conditions and its customer demand," he said.
— With assistance by Sam Wilkin, Anthony Dipaola, Rakteem Katakey, Ann Koh, and Alfred Cang
(
Updates with analyst comments in fourth, ninth paragraphs; export details in seventh.
)
Before it's here, it's on the Bloomberg Terminal.
LEARN MORE