Here's Why It's So Tricky to Understand 'Economic Anxiety'
Why an ongoing debate about Trump's supporters won't be resolved anytime soon.
By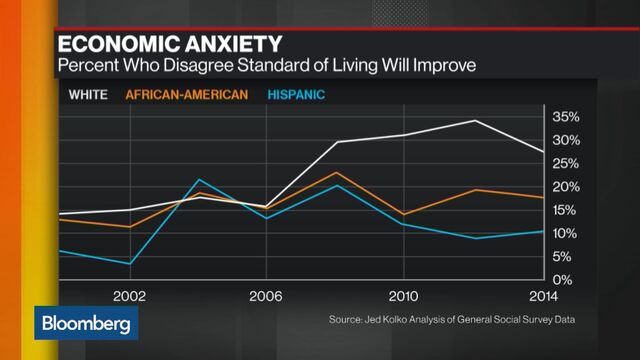 There's an endless debate among political pundits about whether "economic anxiety" is a major driver of Donald Trump's support or whether that's merely a cover for other factors, such as race and anti-immigration sentiment. One problem with the discussion: economic anxiety is a nebulous concept that's difficult to identify. 
Part of the issue is that Donald Trump's core backers (many of them older, white men) don't seem to be doing particularly badly. A Gallup paper on Friday showed Trump supporters typically enjoy relatively-high household incomes compared with the median voter. However, declarations of economic anxiety since 2008 are still higher for whites than for lower-income racial groups, such as Hispanics and African-Americans.

Here's one interesting attempt to explain the apparent disconnect between Trump supporters' views on their economic fortunes and the recent flurry of relatively-sanguine income and employment data, the low labor-force participation rate notwithstanding.
On Bloomberg TV yesterday, Jed Kolko, chief economist at Indeed Inc., the online job recruitment firm, advanced one theory, saying, "The people who have expressed economic anxieties — on measures such unemployment and income — are not necessarily those who are the worst off and, therefore, people have questioned whether those folks deserve to be anxious, and [people] have looked at other explanations."
But here's the kicker: "It turns out that white men, the lower educated and older adults are most likely to be in occupations that are projected to shrink," he said, accounting for such groups' expressions of economic concern.
What's more, according to the Bureau of Labor Statistics (BLS), at-risk sectors aren't confined to blue-collar jobs, with a slew of service-sector occupations set to disappear in the coming years, such as book-keepers and accountants.

So despite the fact whites have higher incomes and lower unemployment than African-Americans and Hispanics — and the fact that blue states have higher unemployment rates than red — white men are disproportionately likely to be in occupations that are slowly vanishing, perhaps accounting for their expressions of economic anxiety, Kolko says.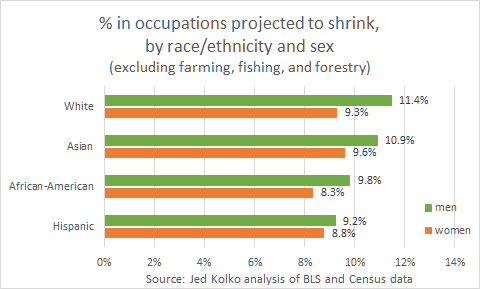 The age and education-levels of median Trump supporters are also correlated with their employment in at-risk sectors, according to Kolko. 


Not everyone will agree with Kolko's analysis. That same Gallup paper, published on Friday, strikes a different note on drivers of economic distress and Trump support.
"Living in zip-codes more reliant on social security income, or with high mortgage to income ratios, or less reliance on capital income, predicts Trump support. There is stronger evidence that racial isolation and less strictly economic measures of social status, namely health and intergenerational mobility, are robustly predictive of more favorable views toward Trump, and these factors predict support for him but not other Republican presidential candidates."
Before it's here, it's on the Bloomberg Terminal.
LEARN MORE