Photographer: Brendon Thorne/Bloomberg
As the U.K. strikes out on its own, its hopes for a more globalized trade profile are already threatened by tough talk from several European Union member states as well as the jitters from key international allies, the U.S. and Canada.
The notable exception?  Far-flung Australia.
Its prime minister and trade minister have both expressed a keen interest in preparing for a bilateral free trade agreement with a post-Brexit Britain.
"Clearly there's some work to be done as the U.K. goes about finding the correct pathway for its exit from the EU and negotiations," Australian Trade Minister Steven Ciobo said in a Bloomberg Television interview, clarifying that formal negotiations would have to wait until the U.K. has officially exited the EU. "But I wanted to reinforce Australia's desire to make sure that we're able to take our relationship, in terms of that trade-investment relationship, to an even stronger platform in the future."
For Australia, such a deal would build on an already-strong relationship with a fellow Commonwealth member that is its biggest trading partner in the EU and seventh-biggest globally.

According to its Department of Foreign Affairs and Trade, the U.K. was responsible for 7.1 billion Australian dollars ($5.5 billion) in imported goods and $5.6 billion in imported services in 2015. This placed it tenth and second, respectively.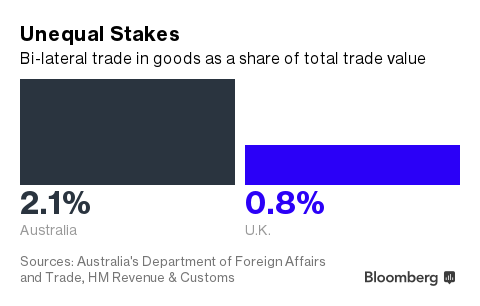 Australia meanwhile, barely ranks among the top 20 U.K. trading partners, according to HM Revenue & Customs data. A free trade deal with Australia would matter, certainly, yet it would remain something of a consolation prize to clinching the real game-changer: a trade agreement with either the EU (responsible for 49 percent of U.K. foreign trade last year) or the U.S. (responsible for 11 percent).
It looks like U.K. Prime Minister Theresa May will trigger formal exit negotiations with the EU by April 2017, starting the clock on two years of talks. Those will run parallel to trade discussions between the U.K. and Australia: A working group of senior officials is expected to gather in early 2017 and meet twice a year. 
The other half of the bilateral equation is investment, where Australia and the U.K. are also closely linked. As of the end of 2014, the U.K. was the second-largest source of total and direct foreign investment into Australia after the U.S., according to the government. In 2015, U.K. foreign direct investment in Australia outpaced that from all other EU nations combined.

While any future deals are years down the line, these friendly overtures from Down Under show trade must go on after Brexit.