Hanjin Shipping Wins Interim Order Protecting Assets in U.S.
By
New Jersey judge asked to recognize reorganization in Seoul

Samsung tells judge it has $38 million in cargo off Long Beach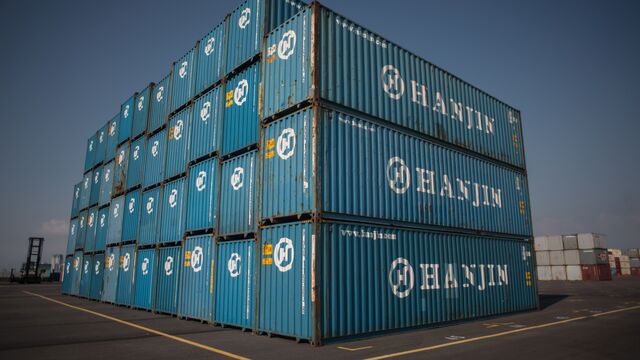 Hanjin Shipping Co. won a provisional ruling protecting its assets in the U.S. against creditors while the shipping line proceeds with its reorganization in South Korea.
U.S. Bankruptcy Court Judge John K. Sherwood in Newark, New Jersey, issued an interim provisional order Tuesday on Hanjin's request and asked for lawyers in the case to file more information before a final hearing Friday, according to minutes posted on the court's website.
Hanjin filed a Chapter 15 petition in the U.S. on Sept. 2, seeking recognition of its pending reorganization in Seoul court. The shipping line asked the court to protect its assets in the U.S. against enforcement actions and seizure attempts by the company's creditors.
"There are innumerable parties that can arrest and levy on the debtor's property in the United States," the company said in its Sept. 2 request. "These parties include, but are not limited to, fuel provider, ship owners (where the debtor is a charterer), terminals, port pilots, trucking companies, repair vendors, rail companies, and container lessors."
Samsung Electronics Co. filed support Tuesday for Hanjin's Chapter 15 petition, saying it has about $38 million in merchandise on two Hanjin vessels off the port of Long Beach, California, that aren't able to dock without a U.S. court order protecting the company against creditors trying to seize the cargo.
The merchandise on the ships include refrigerators, washing machines and dishwashers that Samsung can't unload without bankruptcy court protection for Hanjin, the electronics maker said.
The case is In re: Hanjin Shipping Co. Ltd., 16-BK-27041, U.S. Bankruptcy Court, District of New Jersey (Newark).
Before it's here, it's on the Bloomberg Terminal.
LEARN MORE