Goldman Sachs Says Wider Mexico Surplus May Win Over Traders
By
Mexico has cut spending twice this year to bolster finances

Debt load still likely to rise, though increase may slow: BofA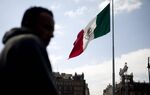 Banks including Goldman Sachs Group Inc. and Bank of America Corp. say Mexico can do more to shore up its finances.
Mexico's finance ministry by law must present its 2017 budget proposal to the lower house of Congress by Thursday. President Enrique Pena Nieto said it will be delivered by incoming Finance Minister Jose Antonio Meade, who he named to replace Luis Videgaray on Wednesday. The plan may call for a so-called primary budget surplus that's equal to about 0.2 percent of gross domestic product, based on a preliminary estimate from the government earlier this year. But Mexico may be more ambitious, says Goldman Sachs's Alberto Ramos.
The bank's chief Latin America economist expects the country to shoot for a primary surplus -- which excludes interest payments -- of as much as 0.5 percent of GDP, a move that could bolster confidence among bond investors. Mexico has already imposed budget cuts to help stem a 6.4 percent drop in the peso this year, the most among major currencies after the British pound. The peso's slide has caused Mexico's bonds to lose 1.4 percent, compared with an average gain of 6.7 percent in emerging markets.
Here are key areas to watch.
HOW BIG A SURPLUS?

In March, Mexico announced plans to return the nation to a primary surplus next year, the first since 2008 and the global financial crisis. In an interview last month, Videgaray reiterated that plan, saying the nation "needs to earn its credibility basically every day."

"The higher the better," Ramos said by phone from New York. "Any surprise in that regard will be positive."

The Finance Ministry press office declined to comment on whether the budget plan will include a wider surplus.


CAN THE TIDE OF RISING DEBT BE STOPPED?
Shifting to a primary surplus could eventually help reverse Mexico's increasing debt load if the move is repeated in 2018 and beyond, said Carlos Capistran, chief Mexico economist at Bank of America in Mexico City. Still, next year's budget alone will probably slow but not end the debt increase, he said.

The government expects its broadest measure of debt to surpass 50 percent of GDP this year for the first time since at least 2000. The gauge is up from 38 percent in 2012, when Pena Nieto took office, largely because of the weakening exchange rate.

"We've seen the levels of public-sector debt grow in recent years, so a commitment from the federal government to maintain fiscal discipline above all else is very positive," Raul Martinez-Ostos, Barclays Plc's Mexico chairman and chief executive officer, said in an interview in Mexico City. "A foreign investor looking at Mexico likes the fact that there's orthodoxy and consistency in economic policy."

HOW WILL RATINGS COMPANIES REACT?
In an interview last month, Luis Madrazo, the Finance Ministry's chief economist, said the nation's 2017 budget proposal and plans for spending cuts -- 175 billion pesos ($9.4 billion) in reductions were outlined in an April preliminary report -- will help preserve the nation's credit rating. That, in turn, could help stem capital withdrawals.

On Aug. 23, however, S&P Global Ratings lowered the outlook on Mexico's BBB+ rating to negative from stable, citing "disappointing" economic growth and the rising debt load. Moody's Investors Service had already changed its outlook on Mexico's grade to negative in March.



— With assistance by Isabella Cota, and Felipe Hernandez
Before it's here, it's on the Bloomberg Terminal.
LEARN MORE