Gary Johnson Sees Backlash If He's Excluded From Debate Stage
The Libertarian Party nominee needs to receive 15 percent support in recognized polls to be included.
By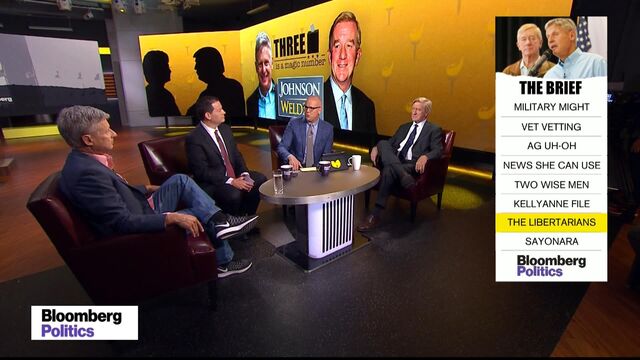 As the deadline to qualify for the first presidential debate draws closer, Libertarian presidential nominee Gary Johnson said he believes the Commission on Presidential Debates will face public pressure if he is excluded from the Sept. 26 event.
"I think that there will be a lot of heat that will go along with not putting us in the debate," Johnson said during an interview Wednesday on Bloomberg TV's With All Due Respect, where he appeared with his running mate, former Republican Massachusetts Governor Bill Weld.
Johnson and Weld need to average 15 percent in national polls approved by the commission in order to be included in the presidential and vice-presidential debates. Johnson currently averages 9.2 percent, based on the most recent versions of the five approved polls. 
Johnson said that he doesn't think the 15-percent threshold is too high, but argued that pollsters don't consistently place him in the top-line question as an option alongside Hillary Clinton and Donald Trump.
"If we were on the top line tomorrow we'd be at 20 percent, minimum," Johnson said. 
QuickTake Q&A: Presidential Debates
To boost his profile, Johnson this week launched a $174,000 television ad buy in seven Western states, and New Hampshire, where the campaign has gained some traction. Asked why the campaign decided to focus on sparsely populated Western states instead of launching a national campaign, Weld said they're currently polling over 15 percent in those states. 
"The Republican co-chair of the commission on debates has said that maybe running well above 15 percent in swing states would be good," Weld said.
According to a Washington Post/Survey Monkey 50-state poll released Tuesday, Johnson would reach or exceed the 15 percent threshold in 15 states. In New Mexico, where he served two terms as a Republican governor, Johnson polls at 25 percent. 
Asked if they would sue the commission if they are excluded from the debates, Weld said that their campaign could point out to the Internal Revenue Service that the commission is not acting in a nonpartisan way. However, Weld said he would focus on pressuring the commission to honor its mission of educating voters. 
"I think public opinion is going to be more important than any lawsuit," Weld said. "I'm going to make a lot of noise every day between now and Nov. 8 on this whole constellation of issues."
With unpopular candidates leading the Republican and Democratic tickets, voters have given third-party candidates like Johnson and Green Party presidential candidate Jill Stein renewed attention.
On Wednesday, 2012 Republican presidential nominee Mitt Romney tweeted, "I hope to get to see former GOP Governors Gary Johnson and Bill Weld on the debate stage this fall."
Before it's here, it's on the Bloomberg Terminal.
LEARN MORE