India's New Central Bank Chief Looks About to Get Positive News on Rupee
By
Positive current account will be a welcome development: ANZ

Broadest measure of trade to show $2.6 billion surplus: survey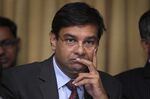 India's new central bank chief Urjit Patel, faced with high inflation that limits his room to spur flagging growth, looks about to get some positive news on the rupee.
The current account swung to a $2.6 billion surplus in the April-June quarter, its first since 2007, according to the median of 13 economist estimates in a Bloomberg survey before data due this month. A stronger external profile stands to boost Asia's second-worst performing currency, making it a safer option for global funds seeking higher yields.
"Having a current account surplus will be a welcome development for the new Reserve Bank of India Governor," said Khoon Goh, the head of regional research at Australia & New Zealand Banking Group Ltd. in Singapore. "That would be positive for the Indian rupee, especially with the market assigning a lower chance of a U.S. rate hike in September."
The wipeout of the deficit would offer a clean slate to Patel, a fiscal conservative who'd predicted India's 1991 balance of payments crisis. A sustainable surplus, however, would require policy makers to trigger a rebound in exports that have fallen in all but one of the past 20 months as overseas demand slumps.
Dollar-based investors stand to gain 5.7 percent, including interest, on rupee purchases by the end of 2017, Bloomberg data show. The currency has pared its annual loss in the recent days, rising to a four-month high on Wednesday, as it joined a rally across emerging-market currencies.

The rupee snapped a six-day rally on Thursday, falling 0.1 percent to 66.4225 a dollar in Mumbai, according to prices from local banks compiled by Bloomberg. The benchmark 10-year sovereign bond yield dropped one basis point to 7.05 percent, its lowest close since August 2009.
A drop in gold imports due to a strike by jewelers' protesting a new tax and a smaller oil bill will be key drivers of the surplus, according to Sonal Varma and Neha Saraf, economists at Nomura Holdings Inc.
More cash to spend could help Patel tide over an about $20 billion currency swap redemption this year. While his predecessor Raghuram Rajan boosted foreign-exchange holdings to a record before handing charge to Patel Sept. 4, the outflows risk triggering market volatility.
The repayments "should not be very disruptive," Varma and Saraf wrote in a Sept. 2 report. They predict a current-account surplus of $4 billion, while other forecasts range from $7.5 billion to a deficit of $1 billion.
Economists, however, haven't always been right about their predictions for India's external profile and broader economic indicators show mixed signs of strength. The economy grew at the slowest pace in more than a year during the April-June quarter as private consumption slowed, while the inflation rate extended its rise to a 23-month high in July led by surging food costs.
Under the hood, the balance of payments numbers, too, aren't healthy. Exports resumed their fall in July after briefly halting the drop the previous month, and softer imports signal that domestic industry may not be firing on all cylinders.
"A current account surplus will indicate that the investment cycle is still weak," said Devendra Kumar Pant, chief economist at Mumbai-based India Ratings and Research Pvt., the local unit of Fitch Ratings. "While the surplus is welcome, it isn't desirable unless it results from a pick up in exports."
In the shorter term, however, declining odds of a rate increase by the Federal Reserve and a surplus in India's broadest measure of trade will sustain capital inflows into India, said Bhupesh Bameta, head of research for currencies and rates at Edelweiss Financial Services Ltd. in Mumbai.
"Appreciating pressure has been on the rupee for the last couple of years but the central bank intervention has prevented a sharp gain," he said. "We have to see the new RBI chief's stance on forex management to see where the currency would go further."