markets
Automakers Lead Europe Stocks Higher as DAX Erases Annual Drop
By
German index takes its rise since February low to 23%

Energy producers climb to highest prices since July 21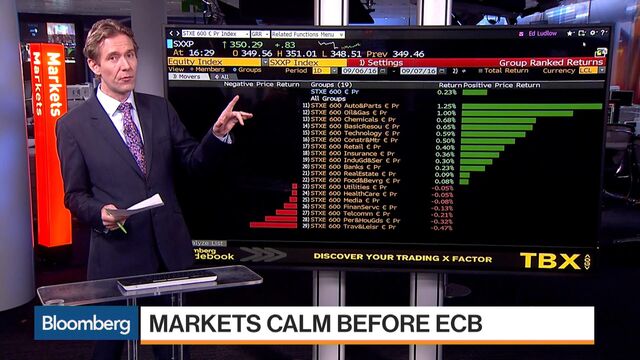 A rally among exporters amid a weaker euro pushed European equities near their highest prices since April, while Germany's DAX Index erased its annual decline.
Automakers led the advance in the Stoxx Europe 600 Index, which gained 0.3 percent at the close, rising for a fourth time in five days. The DAX climbed 0.6 percent, with steelmaker ThyssenKrupp AG, chemical company BASF SE and Daimler AG advancing the most. The German index came close to erasing its 2016 loss last month, though it failed to hold its gain through the close.
European shares resumed an advance, taking their rebound to almost 14 percent from the June low, boosted by speculation over central-bank stimulus and U.S. data showing steady jobs growth. The focus is now turning to the European Central Bank's gathering on Thursday, with the region's stock market being the calmest it's been before an ECB meeting since the start of quantitative easing last year.
"There is more and more speculation about an expansion of QE," said Guillermo Hernandez Sampere, head of trading at MPPM EK in Eppstein, Germany. His firm oversees $260 million. "Volatility is still very low, and there's really no better alternative for yield, so I don't see a correction coming."
Economists project President Mario Draghi will leave rates unchanged, though most of those surveyed by Bloomberg forecast he will extend his bond-buying program before the end of the year.
The Stoxx 600, which recovered from its drop following the U.K.'s secession vote, reached its highest since April on Monday, closing at 350.62, compared with Wednesday's 350.46. After hovering around its 200-day moving average for most of August, it finally breached the level and ended about 9 points above it for the past four sessions, the biggest gap in more than a year.

In a stark contrast to previous central-bank meetings, the VStoxx Index, which measures Euro Stoxx 50 Index volatility expectations, was 23 percent below its average before the ECB's last 10 decisions as of Tuesday, following a similar trend as in the U.S. stock market. The European measure slipped 2.7 percent on Wednesday.
German carmakers Daimler and Volkswagen AG, as well as French tiremaker Michelin & Cie., contributed the most to the advance in auto-related companies, gaining more than 1.3 percent. ThyssenKrupp and BASF, which get about half their sales from outside the euro area, climbed more than 1.7 percent. Energy companies also advanced as oil rose for a third day.
While Germany's DAX is the first of the main euro-area gauges to erase its annual slide, benchmark measures of Italy and Spain led the advances in the region on Wednesday. The U.K.'s FTSE 100 Index added 0.3 percent as the pound fell after reports showed the nation's house prices slid and manufacturing output worsened. Bank of England Governor Mark Carney testified before the parliament, suggesting that the nation may avoid a recession thanks to the central bank's actions.
Among companies moving on corporate news, Ashtead Group Plc gained 3.3 percent as the British building-equipment rental company said full-year results will probably be ahead expectations. Weir Group Plc added 4.5 percent after Morgan Stanley raised its rating on the Scottish engineering company to the equivalent of a buy.
CMC Markets Plc tumbled 12 percent after the U.K. foreign exchange and spread betting broker forecast a decline in net operating income. Deutsche Lufthansa AG and Air France-KLM Group lost more than 1.2 percent as Deutsche Bank AG cut its recommendation on the airlines to sell. Online takeout company Just Eat Plc dropped 5.4 percent as Amazon.com Inc. extended its restaurant delivery service to London.
Before it's here, it's on the Bloomberg Terminal.
LEARN MORE