markets
Chipotle Expects to Meet Soon With Ackman After He Takes Stake
By and
Investor announced 9.9 percent holding in chain on Tuesday

Chipotle has struggled to recover from E. coli outbreak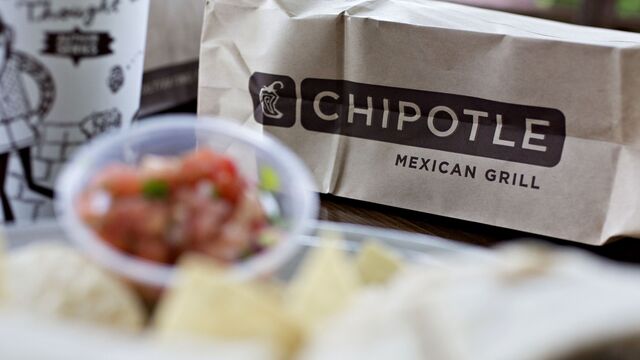 Chipotle Mexican Grill Inc. is getting to know activist investor Bill Ackman, who announced a 9.9 percent stake in the embattled restaurant chain Tuesday and vowed to push for changes.
Chipotle held a "brief" introductory call with Ackman on Wednesday and expects to meet with him soon, according to company spokesman Chris Arnold. "We certainly welcome the opportunity to engage in conversation with Mr. Ackman, just as we do with all of our investors," Arnold said in an e-mail.
After a tumultuous year that included multiple foodborne-illness outbreaks, Chipotle is now in the cross hairs of a high-profile activist with a history of tangling with company executives and directors. Ackman, who runs hedge fund Pershing Square Holdings Ltd., could reignite efforts to shake up Chipotle's nine-person board, which has been criticized for its slow response to a food-safety crisis and a lack of diverse viewpoints.
The Denver-based company has attempted to revive sales with a new marketing campaign, along with a rewards program, though a comeback has been slow to materialize. Adding to its woes, one of the company's top four executives was recently indicted on charges that he bought cocaine from a New York drug ring.
There's no "quick fix" for Chipotle, which needs sales to recover, said Morgan Stanley analyst John Glass. The usual tools for revitalizing restaurants, including spinoffs and selling locations to franchisees, probably aren't short-term opportunities, he said in a report.
Still, Chipotle investors were heartened by Ackman's involvement. The shares climbed as much as 6.6 percent to $441.20 in New York on Wednesday after Pershing Square announced its holding. The stake totals 2.9 million shares, including 554,000 common shares and 2.3 million shares under purchase contracts. Chipotle's stock had been down 14 percent this year through Tuesday's close.

A spokesman for Pershing Square declined to comment beyond Tuesday's regulatory filing disclosing the stake. In that statement, the firm described Chipotle as an undervalued company with a "strong brand, differentiated offering, enormous growth opportunity and visionary leadership."
Yet Pershing Square also said it may push for changes to governance. That could intensify scrutiny of Chipotle's directors. CtW Investment Group, a firm affiliated with the union-backed group Change to Win, lobbied unsuccessfully to remove Patrick Flynn and Darlene Friedman from the board earlier this year. Investors voted to keep the directors at Chipotle's annual meeting in May, but they did pass a proxy-access measure that may make it easier to submit future proposals.
Ackman could use a proxy fight to challenge the board -- a tactic that has worked at restaurant companies in the past. Starboard Value unseated all of the directors of Olive Garden owner Darden Restaurants Inc. after a proxy fight in 2014.
Chipotle's food-safety crisis erupted in November, when the Centers for Disease Control and Prevention said it was investigating an E. coli outbreak tied to the chain. That brought attention to previous foodborne illnesses among Chipotle customers. The situation worsened when a norovirus outbreak struck a location outside Boston College in December, hammering the company's results and stock price.
Sales Plunge
Chipotle's same-store sales have dropped for three straight quarters, including a 23.6 percent decrease in the most recently reported period. The company got more bad news this summer when Mark Crumpacker was indicted for allegedly purchasing cocaine. The executive, who was overseeing the advertising push meant to spur a recovery, was placed on leave by the company. He had run marketing since 2009.
Chipotle, already facing investor scrutiny, said last month it was interviewing for a new board member. The company has been criticized for having all-white, mostly male directors. The board also has had a median tenure of 17 years, CtW complained earlier this year. Steve Ells, who has been chairman since 2005, serves as co-CEO with Monty Moran.
Before it's here, it's on the Bloomberg Terminal.
LEARN MORE