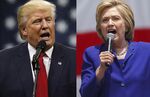 Businesses are becoming more anxious about presidential elections set for November, according to the Federal Reserve's latest anecdotal appraisal of the economy.
Election worries were cited as a source of concern seven times in the central bank's Beige Book release, a survey of business contacts published Wednesday in Washington. That's up from two mentions in the July survey of business contacts by the Fed's twelve districts and none in June.

Here's a sample of what was said:
Real estate "contacts in several districts cited only modest expectations for sales and construction activity moving forward, due in part to economic uncertainty surrounding the November elections."
In the Dallas region, retailers "were more uncertain in their outlooks this reporting period, mainly because of the presidential election and its impact on consumers and consumer confidence."
Some temporary staffing companies in the Boston district "cite concern over the upcoming November election," according to the report.
Interestingly, pre-election jitters don't yet seem as strong this time around as they did in the lead-up to the last vote in 2012, when President Barack Obama squared off against former Massachusetts Governor Mitt Romney.
In the October Beige Book that year — there was no survey in September — there were 15 mentions of concern about the election.
In that year, worries about the presidential poll were intertwined with angst about the so-called fiscal cliff, which mainly involved the scheduled expiration in January 2013 of temporary income tax cuts.


Before it's here, it's on the Bloomberg Terminal.
LEARN MORE