Brexit Bulletin: Return of the Central Banker
Expect fireworks as Carney justifies his post-Brexit policy to lawmakers
By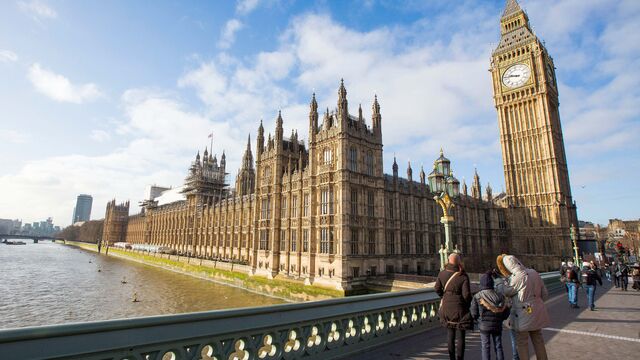 Bank of England Governor Mark Carney is back in the spotlight.
Carney speaks before lawmakers today with some fireworks likely after pro-Brexit Jacob Rees-Mogg said the central bank had cut interest rates and resumed asset-purchases without sufficient evidence.
Having warned in the referendum campaign that a vote to leave could possibly trigger a technical recession, Carney's appearance comes the day after economists at Morgan Stanley and Credit Suisse scrapped calls for the economy to contract.
"No doom, some gloom," was how economists at Berenberg summed up the economy in a report yesterday as they also raised their forecasts for growth.
The reason for the rethink is well illustrated by Citigroup's surprise index which measures actual data against forecasts. It has jumped to its most positive level in three years.

As he's probed on whether he acted prematurely or too aggressively, expect Carney to say his stimulus may have helped support the economy and that it's still too early to tell if the recovery is sustainable.
Data today may back his approach. Manufacturers cut production at the fastest pace in a year in July, while house prices fell for a second month in August. 
You can watch Carney live on Bloomberg.com at 2.15pm local time (9.15am in New York.)
Hammond and the Banks
Chancellor of the Exchequer Philip Hammond met with senior bankers in London today as some intensify warnings that Brexit will force them to leave the U.K.
Hammond convened a group of financiers chaired by Shriti Vadera of Santander to sound out their views and lay out how the government is supporting the economy.
He is likely to have been pressed on the importance of maintaining access to the European Union via "passporting" and also on the potential for the government to win more time to secure a deal for banks in the region.

Hammond's meeting was well timed. UBS Chief Executive Officer Sergio Ermotti said yesterday that he may have to move as many as 1,500 jobs, the equivalent of 30 percent of the total, from the U.K. Lloyds of London Chairman John Nelson warned on Monday that he and other insurers would be forced to go elsewhere if the government fails to secure continued access to the single market.
A string of reports out today may have informed the discussions. TheCityUK called for a "transitional arragement" to safeguard banks in Europe, Meanwhile, the Center for Policy Studies outlined why London will remain a financial powerhouse and PricewaterhouseCoopers named it the best city for doing business for a second year.
Disappointed Draghi
European Central Bank President Mario Draghi has a reason to rue Brexit as he prepares to unveil new forecasts for growth and inflation on Thursday.
Before the referendum, some policy makers suggested the ECB's projections might be revised upward, affirming that current stimulus is sufficient. Now most economists surveyed by Bloomberg predict that downside risks will force the ECB to extend quantitative easing before the end of the year.

"This forecast round will take a more optimistic view on the ECB's measures and their impact on inflation," said Anatoli Annenkov, a senior economist at Societe Generale. "But then there's the Brexit story. The two will cancel each other out, which means forecasts will more or less stay where they are."
Australia Eager
Australia and the U.K. are already keen to strike a trade pact as soon as the U.K. leaves the EU. In preparation, the two allies have established a working group of senior officials to gather in early 2017 and meet twice a year.  
"Clearly there's some work to be done as the U.K. goes about finding the correct pathway for its exit from the EU and negotiations," Australian Trade Minister Steven Ciobo said in a Bloomberg Television interview. "But I wanted to reinforce Australia's desire to make sure that we're able to take our relationship, in terms of that trade-investment relationship, to an even stronger platform in the future."
Here are some charts to show why the Australians are so eager. 
On the Markets
The pound halted a five-day advance after the house price and industrial output data cooled demand for it.
The Swedish krona has taken on a new role as a funding currency for so-called carry trades after the Brexit vote made it more appealing to bet on interest-rate differentials.

And Finally...
Brexit means books. There's a wave of publications on the way for those still interested in the referendum campaign and its aftermath. Craig Oliver, communications chief to former Prime Minister David Cameron, will provide an inside view. Also jostling for space on the bookshelves or tablets are journalists Tim Shipman, Harry Mount and Owen Bennett.
Before it's here, it's on the Bloomberg Terminal.
LEARN MORE