Bond Investors Gearing Up for ECB Look for Flatter Yield Curve
By
Yield spread between 10- and 30-year bunds narrows this week

This is a sign the market expects ECB to expand stimulus: DZ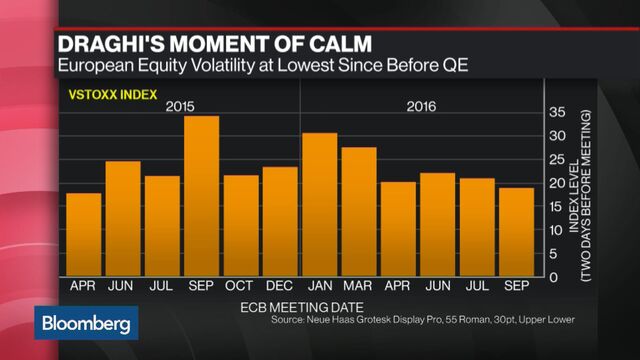 Government-bond bulls are keeping their expectations high before the European Central Bank's meeting this week.
Investors have strengthened bets that yields on longer-dated securities will fall relative to those on shorter-term debt in the past three days. The so-called bull-flattening of the yield curve is fueled by speculation policy makers will step up their asset-purchase program or adjust its rules to ease a perceived scarcity of bonds available to buy.

With the ECB's current rules for quantitative easing excluding much of the shortest-dated debt from purchases, investors are building up positions in longer-term, higher-yielding securities as the Governing Council prepares to announce its latest policy decision on Thursday.
"In recent days, the yield curve is becoming increasingly flatter -- that's a sign that the market expects the ECB will come up with some measures," said Christian Reicherter, an analyst at DZ Bank AG in Frankfurt. "We think they will extend the asset-purchase program from at least March next year, and possibly do minor tweaks."
He said market participants are disappointed about a scarcity of bonds to buy.
The yield difference, or spread, between German 10- and 30-year bunds narrowed two basis points, or 0.02 percentage point, to 53 basis points as of 5 p.m. in London, the lowest level this month on a closing-market basis. The spread is still wider than this year's narrowest close of 45 basis points on Aug. 1.
Lagging Inflation
Most economists surveyed by Bloomberg predict the ECB will extend QE before year-end, given that regional inflation remains well below the central bank's goal of close to 2 percent. A majority also expect policy makers to change the parameters of the program to avoid a potential shortage of securities as more bonds fall below the deposit rate of minus 0.4 percent, making them ineligible for purchase.
Even with speculation the ECB will tweak QE, some investors remain reluctant to buy at such low yields. When Germany sold 10-year securities at a record-low yield of minus 0.11 percent Wednesday, investors bid for 3.95 billion euros ($4.4 billion) of the securities, compared with a sales target of 5 billion euros.
Previous sales in June and July "were not too well bid either, but the degree of underbidding was highest at today's auction," said Marius Daheim, a senior rates strategist at SEB AB in Frankfurt.