BOJ Won't Expand Stimulus This Month, Former Executive Says
by and
Momma says no need to take action given fundamentals, risks

Says he can't see policy that lets BOJ achieve price target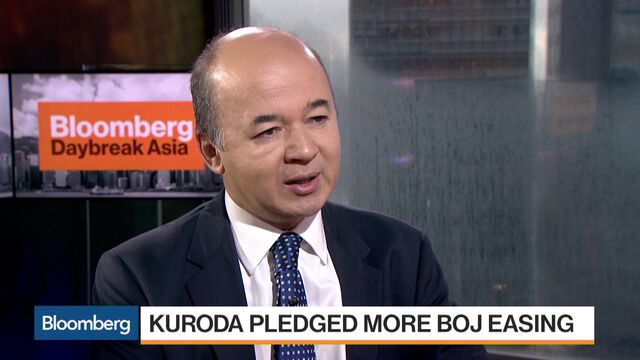 The Bank of Japan will leave its stimulus program unchanged at its meeting this month, given little deterioration in economic fundamentals and growing caution about the risks of expansion, a former BOJ executive director said.
"There is no need to take action, given the economic fundamentals," said Kazuo Momma, an economist at Mizuho Research Institute who left the central bank in May. "The BOJ didn't expand its quantity of easing or cut the negative interest rate further in July. I don't think things have gotten worse since then."
Momma said BOJ Governor Haruhiko Kuroda's comments in a speech Monday about the costs and benefits of the central bank's stimulus measures represent a "remarkable change" in thinking. Kuroda has vowed many times over the past three-plus years to do whatever it takes, and without hesitation, to achieve the central bank's 2 percent inflation goal.
"Conducting policy by weighing costs and benefits is a huge shift," Momma said. "It is vital for the BOJ to make markets understand that."
BOJ's Review
The BOJ is conducting a comprehensive review of the extraordinary monetary easing program launched under Kuroda, a reflection of its struggles to hit the price target. A majority of economists in a Bloomberg survey said they think the review makes an expansion of the stimulus program at its policy meeting Sept. 20-21 more likely.
Kuroda insisted Monday that there is ample room for further monetary easing, saying no options have been ruled out. He said the BOJ's negative rate policy has weighed on bank profits, and noted that a decline in long-term yields would limit returns on pensions, weighing on business and household sentiment.
In April, Kuroda had said the BOJ wasn't conducting monetary policy for the benefit of commercial banks, and would push the key rate further into negative territory again and again if necessary. He said sentiment would improve once people became aware of negative rates' positive effects.
Momma said the BOJ must be aware that it is difficult to cut rates further or increase its purchases of Japanese government bonds -- citing as proof its decision in July to expand only the volume of its purchases of exchange-traded funds.
Kuroda's comments Monday on the risks of action likely indicate the BOJ has decided that slight changes in its inflation forecasts don't necessarily warrant additional stimulus, Momma said.
Inflation Target
Momma said the BOJ's inability to meet its inflation target, despite undertaking the most aggressive monetary easing among global central banks, shows that central banks alone can't fight off deflationary pressures.
"I can't think of any decisive [BOJ] policy that brings the bank to the 2 percent inflation target," he said.
The BOJ should place less emphasis on achieving 2 percent inflation in the near term, while continuing its aggressive easing and advocating for structural reforms to raise Japan's potential growth rate, which the bank estimates is near zero, Momma said.
"Japan can't blame the BOJ anymore. The BOJ has done so much but we are nowhere near hitting the 2 percent inflation target," he said. "Japan's problem isn't a lack of monetary stimulus. It's about a lack of growth measures to boost the potential growth rate."
Before it's here, it's on the Bloomberg Terminal.
LEARN MORE