business
Trudeau Sounds Human-Rights Note as China Trip Ends in Hong Kong
By
PM doesn't believe in trade-off between business, speaking out

Canadian leader also visited Beijing, Shanghai and Hangzhou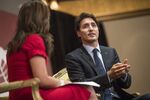 Canadian Prime Minister Justin Trudeau wrapped up his week-long visit to China by assuring a Hong Kong audience that his efforts to improve relations with the Asian country won't prevent him from raising human-rights concerns.
Trudeau, speaking in an interview with Bloomberg's Angie Lau during a Canadian Chamber of Commerce luncheon, said there's no trade-off between pursuing economic interests and raising issues such as the rule of law.
"I don't think you have to choose," Trudeau said on the last day of a trip that began Aug. 30 in Beijing and included stops in Shanghai and Hangzhou. "Having challenging conversations in an open responsible way is what a good relationship, a good solid dialog needs to have."
Trudeau said discussions he had with Chinese leaders included conversations on consular cases, governance and corruption. He added that even Canada is not immune to such issues and has been criticized over its treatment of indigenous groups. "I recognize that Canadians want us to always demand better of ourselves," he said.
The prime minister billed his week-long visit, which also coincided with a Group of 20 leaders summit, as an effort to reboot relations with the Asian country after what he described as an era of "hot and cold" ties under his predecessor, Stephen Harper.
Alibaba Launch
The change in tone also included a shift in focus away from natural resources toward consumer markets. The most ballyhooed commercial event was a stop at Alibaba Group Holding Ltd., China's dominant online shopping company, where Trudeau presided over the commercial launch of a dedicated portal for Canadian producers.
He brought up the Alibaba initiative again Tuesday in Hong Kong. "We know that the Chinese economy is transforming right now, moving away from just being a manufacturing export economy to recognizing the economic potential of 300 million members of the global middle class," Trudeau said.
Other highlights of the trip included Trudeau's reluctance to commit to any easing of foreign investment restrictions against Chinese companies -- even though he was asked about it on three separate occasions -- and constant warnings about growing anti-trade sentiment from Canadian officials.
Trade Worries
Worries about a populist backlash against trade featured highly in discussions at the G-20 summit. Canada blamed growing protectionism in the U.S. for its inability to resolve a trade dispute over softwood lumber, and warned it complicated efforts to win backing for a trade agreement with the European Union.
Still, Trudeau said he believes Canada will largely escape the isolationist sentiment surfacing in other countries.
"I would be very careful and hesitant to apply situations that might be described in other countries to Canadians," Trudeau said at a press conference Monday. "We've seen Canadians are -- and all demographic groups combined -- generally open and positive and optimistic about their future."
Before it's here, it's on the Bloomberg Terminal.
LEARN MORE