Switzerland's Economy Grows at Fastest Pace Since 2014
by
Gross domestic product expands 0.6%; economist estimate 0.4%

Central bank's next interest rate decision on Sept. 15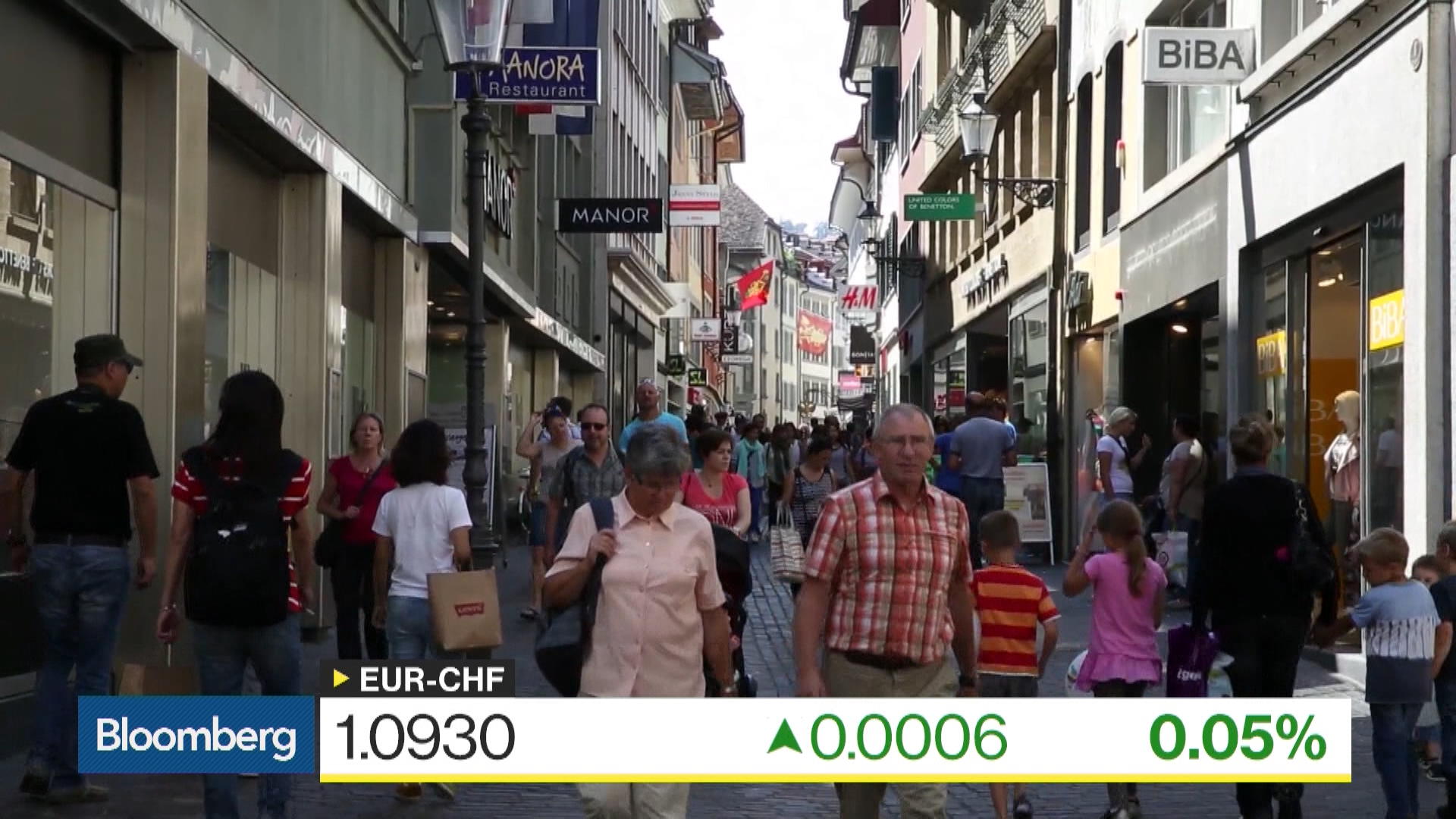 Swiss economic momentum accelerated in the second quarter, exceeding that of the euro area and hitting its fastest pace since 2014.
Gross domestic product rose 0.6 percent in the three months through June, after gaining a revised 0.3 percent in the prior quarter, the State Secretariat for Economic Affairs in Bern said on Tuesday. That jump, helped by government consumption and foreign trade, beats the 0.4 percent increase forecast by economists in a Bloomberg survey.

A year after suffering an exchange-rate shock, the export-oriented Swiss economy appears to be finding its footing again. Demand in countries such as Germany is recovering and local companies are finding ways to cut costs and improve productivity. Unemployment is low by European standards and the strong franc, which the central bank says is overvalued, is buttressing domestic consumption by lowering the cost of imports.
"We have strength in certain sectors like pharmaceuticals -- this has also showed up in our export data recently -- but still struggling in areas like machinery," Oliver Adler, head of economic research at Credit Suisse, told Bloomberg Television's Anna Edwards. "But overall the big shock of 2015 is sort of waning and that is showing up in these GDP numbers."
To listen to Oliver Adler's full interview, click here
According to the SECO, contributions to growth came from foreign trade and government consumption, while household spending stagnated and investment in construction and equipment declined. Concerning exports of goods, the chemicals and pharmaceuticals category "provided the strongest contribution to growth," the SECO said.
Companies in the machine, electrical and metals sectors were particularly hit by a surge in the Swiss currency that followed the central bank's decision to scrap its minimum exchange rate in early 2015. The sector shed 9,200 jobs in the wake of that policy switch, but employment is now stabilizing and exports "started to turn around in the second quarter" due to better European and U.S. demand, industry body Swissmem said last week.
Yet some see dark clouds ahead. While there have so far been few signs that the U.K's June 23 vote to leave the European Union has weighed on momentum in Switzerland, the International Monetary Fund has warned the lion's share of the impact of Brexit will be felt by advanced European economies.
The strong export showing in the second quarter was chiefly due to feeble import growth and therefore reflected "the bad shape of the domestic economy," ING economist Julien Manceaux said in a note to clients. "With the risks from the Brexit vote only starting to emerge and consumer confidence still at very low levels, this was likely the last strong quarter of 2016."
SNB Decision
The Swiss National Bank, whose quarterly policy announcement is scheduled for Sept. 15, is using a deposit rate of minus 0.75 percent coupled with a pledge to intervene in foreign-exchange markets to prevent the franc from appreciating. It admitted to buying up foreign currency to stabilize the franc in the wake of the Brexit vote.
The franc stood at 1.09263 per euro at 9:10 a.m. in Zurich. Katja Mueller of Landesbank Baden-Wuerttemberg last month put the purchasing power parity level of the exchange rate at 1.36 francs per euro.

As a result of the surging franc, Swiss consumer prices plunged the most since 1950 last year. The SNB, whose mandate is to maintain price stability, forecasts an inflation rate of minus 0.4 percent for this year, improving to 0.3 percent in 2017 and 0.9 percent in 2018. It will update those forecasts next week.
Consumer prices fell 0.1 percent in August, compared with both a month and a year earlier, a separate release from the Federal Statistics Office showed on Tuesday.
Before it's here, it's on the Bloomberg Terminal.
LEARN MORE