Putin Tells Uzbek Premier Stability Is Key as Succession Begins
By
'Strategic partnership' with Russia will go on, Mirziyoev says

Uzbekistan seeks new president after death of Islam Karimov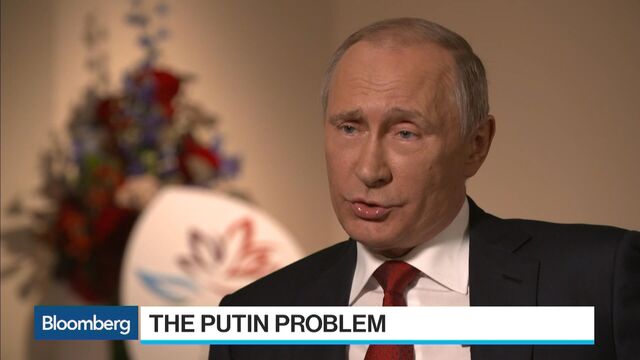 President Vladimir Putin told a potential successor to the late Uzbek leader Islam Karimov that stability is the key to governing as he pledged that Russia "will do everything" to maintain ties with the central Asian state.
Putin held talks with Uzbek Prime Minister Shavkat Mirziyoev on Tuesday after laying flowers at Karimov's grave in the city of Samarkand during a stop on his return from the Group of 20 summit in China. Karimov's death last week at age 78 ended his more than 27-year rule as the second-longest leader of a former Soviet state.
Karimov maintained stability in Uzbekistan, which "is the basis of prosperity for any nation," and Russia hopes that "everything that was established" by him will continue, Putin said. Uzbeks "can count on us in full as the most reliable friends," he said.
Karimov's funeral on Saturday marked the start of the struggle to pick a successor for the autocratic leader, who ruled since 1989 as Communist Party first secretary and then as Uzbekistan's only president after declaring independence from the Soviet Union in 1991. Russia and the U.S. regard Uzbekistan, central Asia's most populous state, as critical to maintaining stability in the region against rising Islamist militancy and both sought to build military links despite condemnation of Karimov's regime by rights groups that cataloged torture and imprisonment of thousands of his political opponents.
Funeral Commission
Though formally the speaker of the Uzbek senate became acting president before elections take place within three months, Mirziyoev was named head of the funeral commission and joined Putin in visiting Karimov's grave. The powerful head of Uzbekistan's National Security Service, Rustam Inoyatov, is seen as another contender.
Some analysts have suggested a dynastic succession involving Karimov's daughter Lola, whom Putin also met during his visit. Her elder sister Gulnara, once seen as Karimov's successor, was put under house arrest in 2014 after a fall from grace.
"For Uzbekistan, the relationship with Russia was, is and will be a strategic partnership, an alliance," Mirziyoev told Putin. Ties developed by Putin and Karimov "will be built up and strengthened," he said.
Mirziyoev "seems to feel the need to get the backing of Putin" and "it is difficult to imagine Uzbekistan choosing a leader who was not 'signed off' by Moscow," Tim Ash, an emerging-market strategist for Nomura International Plc in London, said in a note. The meeting also allows the premier to show "others in Uzbekistan that he has the same qualities needed to manage the important but tricky relationship with Moscow" as Karimov had, he said.
A "dynastical succession cannot be ruled out," Kate Mallinson, a partner at London-based political risk advisory GPW & Co., said by e-mail. Karimov's daughter Lola and her husband Timur Tillyaev own successful businesses in Uzbekistan and haven't been "directly associated with any of the wider allegations of human rights violations levelled at the Uzbek government," she said.
Before it's here, it's on the Bloomberg Terminal.
LEARN MORE