Deutsche Bank Joins Bears Seeking Shelter From Resurgent Pound
By
German lender closes short bets, remains bearish longer term

Sterling's gain boosted by below-forecast U.S. services data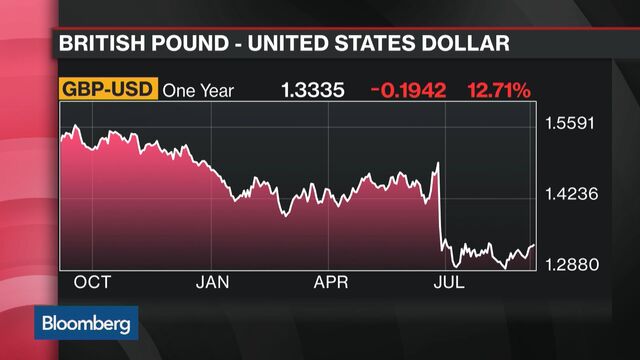 The pound's resilience following buoyant post-Brexit economic data is encouraging some sterling pessimists to rethink their short-term strategies.
Deutsche Bank AG has exited a bet for the U.K. currency to fall on a trade-weighted basis, while retaining its longer-term negative view. UniCredit SpA said it had closed a short pound-dollar position, or a wager sterling would weaken, to reduce "tactical" risk.

The pound rose for a fifth day against the greenback, its longest winning streak since March. Reports such as an index of August services, which jumped the most on record when it was published on Monday, give a more positive view of the U.K. economy in the wake of the June 23 vote to leave the European Union than many had predicted. To analysts, this reduces the need for the Bank of England to further expand its rebooted bond-buying program or to cut interest rates again when it announces policy on Sept. 15.
"Recent data suggest the near-term confidence impact of Brexit may have been overstated, and with risks the BOE now sound a more sanguine note, we take profit on our May" recommendation to bet against the pound on a trade-weighted basis, London-based Deutsche Bank strategist Oliver Harvey said in a note. "This doesn't change our medium-term bearish outlook, however."
U.S. Services
The pound extended its advance against a debased dollar after data showed America's service industries expanded in August at the weakest pace in six years.
Sterling jumped 1 percent to $1.3437 as of 4:15 p.m. in London, touching the highest since July 15. Deutsche Bank's index of sterling versus the currencies of Britain's biggest trading partners also extended its gain and headed for the highest close since mid-July. The pound gained 0.2 percent to 83.61 pence per euro, advancing for a sixth day.
Both Deutsche Bank and UniCredit cited risks involving Britain's negotiations for exiting the world's largest single market when explaining their pessimistic longer-term outlooks.
While the pound's 10 percent drop versus the dollar since the EU referendum is still the worst performance among major currencies, hedge funds and other large speculators last week cut their bearish sterling bets for the first time since early July, reducing them from a record, according to the Commodity Futures Trading Commission in Washington.
Pound Risks
"It is still early days, but if the slowdown in the U.K. economy takes longer to materialize than we had expected, this implies upside risks for our forecast" for the pound to weaken, Vasileios Gkionakis, head of foreign-exchange strategy at UniCredit in London, wrote in a note.
The biggest Italian bank sees sterling falling to $1.20 by year-end, compared with a $1.27 median estimate in a Bloomberg survey -- a 5.5 percent drop to levels not seen since 1985.
These predictions reflect the risks that economists see lingering in the U.K. economy after Brexit. Data today showed a drop in retail sales, while reports Wednesday will show declines in industrial and manufacturing production, as well as house prices, according to Bloomberg surveys.
Any signal by BOE Governor Mark Carney and his colleagues this month that they're willing to loosen the monetary purse strings further would likely weigh on the pound, according to Valentin Marinov, head of Group-of-10 strategy at Credit Agricole SA's corporate and investment-banking unit in London.
"While the BOE's hand may have been forced" when it loosened policy in August, "chances are that the rate cut and the QE extension could help to prevent a sharp and protracted economic downturn," Marinov said. "We suspect that Carney will defend the bank's economic assessment and argue that they stand ready to do more if needed."
Before it's here, it's on the Bloomberg Terminal.
LEARN MORE