business
Poloz-Yellen Spread Widest Since March With Canada on Hold
By
Ten-year yield gap of 56 basis points is up from 32 in April

Bank of Canada interest-rate decision due tomorrow in Ottawa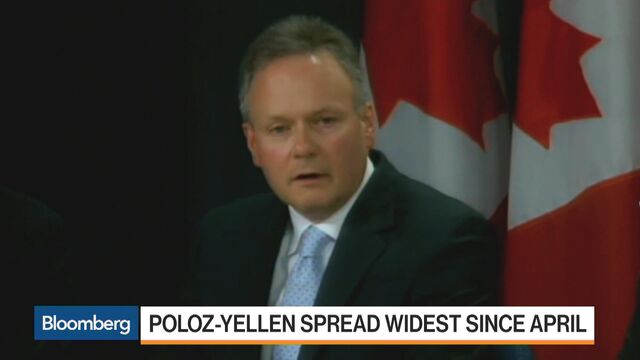 Canadian and U.S. bond yields are diverging by the most in almost half a year as investors bet central-bank chief Stephen Poloz could be years away from following the Federal Reserve's path to rate increases.
Government benchmark debt due in 10 years in Canada traded at 56 basis points below similar U.S. Treasuries last week in Toronto, the widest gap since the end of March. The spread was as narrow as 32 points in April. Five-year debt traded at the largest differential in almost a month.

The growing divergence reflects a Canadian economy just starting to revive from an oil shock and the collapse in exports that produced a record trade gap. Poloz is expected to maintain his 0.5 percent interest rate at a decision due at 10 a.m. Wednesday in Ottawa.
"It's going to take some time before the Bank of Canada gets to where the Fed is," said Andrew Gretzinger, fixed-income portfolio manager at Manulife Asset Management in Toronto. His firm manages $334 billion. "The Bank of Canada will be sitting pat this year and likely, if not the whole of next year, the overwhelming majority of it."
Fed Debate
Ten-year Canadian government bonds yielded 1.06 percent in Toronto on Friday, not far from the record low 0.96 percent set in July. Equivalent-maturity U.S. Treasuries have climbed faster, increasing about 25 basis points over the same period. They yielded 1.6 percent Friday.
The Fed's own debate about when the U.S. recovery will be strong enough to raise interest rates is suppressing yields in that country. Friday's report that showed 151,000 new jobs were created in August was wasn't a definitive signal, with traders betting any rate increase is more likely to come in December, rather than at the Sept. 21 decision.
Rising interest rates undermine bondholder returns, making Canadian debt more of a haven. Canadian government bonds have gained 0.1 percent in the last month, while Treasury debt has lost 0.6 percent, Bank of America Merrill Lynch data show.
And the spread may widen, as the U.S. economy continues to outperform.
Relative Richness
There's still a "relative richness of U.S. yields relative to Canadian yields, considering the large differential between data surprises," according to a report by Emanuella Enenajor, Ralph Axel and John Shin at Bank of America Merrill Lynch in New York.
Canada's economy is finally beginning to generate some good news, after months of gloom that still has some traders pricing in higher chances of rate cuts than increases. The nation's trade deficit narrowed more than expected in August from a record shortfall in July, and the economy grew 0.6 percent in June, moderating the negative impact of the annualized 1.6 percent second-quarter contraction.
"It fits his narrative that the recovery he expects in the second half of this year, a return to above trend growth, is going to be sustained by a recovery in exports," said Brittany Baumann, a macro strategist at Toronto-Dominion Bank's TD Securities unit in Toronto, referring to Poloz's long-standing forecast. "We expect the bank to remain on the sidelines into 2018 and this is regardless of a steady recovery in exports he expects."
'Worrying Signs'
Still, the country isn't out of the woods.
Canada's recovery still shows "worrying signs" from exporters, Scott Smith, senior market analyst at Cambridge Global Payments in Calgary. There's support from increased government deficit spending and from the country's long housing boom, and "that balancing act is giving Poloz room" to stay put, Smith said.
All 21 economists surveyed by Bloomberg predict no change to the 0.5 percent overnight rates on Wednesday.
Gretzinger at Manulife agrees said no one is moving this month, and that the longer play of Fed tightening is going to weaken Canada's dollar. The currency has gained 7 percent against the U.S. dollar this year.
"We're positioned to take advantage of the fact the Bank of Canada is going to be on the sidelines, and it's going to be like that for some time," Gretzinger said.
Before it's here, it's on the Bloomberg Terminal.
LEARN MORE