business
Phyllis Schlafly, Bane of U.S. Feminist Movement, Dies at 92
By
Led grass-roots campaign against the Equal Rights Amendment

She was a fixture on America's political right for 40 years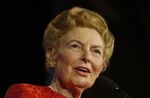 Phyllis Schlafly, the lawyer, author, mother and bane of the U.S. feminist movement who led the resistance that blocked the Equal Rights Amendment to the U.S. Constitution, has died. She was 92.
She died Monday at her home in St. Louis, according to Ryan Hite, communications director at the Eagle Forum, a group she founded to promote conservative policies. The cause was cancer.
Schlafly was a fixture on America's political right for more than four decades, steady in her opposition to abortion, bilingual education, efforts at detente with Cold War enemies, "supremacist judges," United Nations treaties, free trade and guest-worker immigration programs.
Her books included takedowns of the American judiciary, feminism and the "disastrous" policies of former U.S. Defense Secretary Robert McNamara and former Secretary of State Henry Kissinger. "A Choice Not an Echo," the 1964 book that put her on the political map, helped make the case for nominating Arizona Republican Senator Barry Goldwater for the U.S. presidency.
Most Influential
"To listen to the cool people, you could be forgiven for thinking Schlafly is one step above a cretin," Ann Coulter, the conservative author and commentator, wrote in "Slander: Liberal Lies About the American Right" published in 2002. "In fact, Schlafly is one of the most accomplished and influential people in America."
Schlafly was a mother of six, a failed candidate for Congress and publisher of a small monthly political newsletter when Congress approved the Equal Rights Amendment, the main part of which read: "Equality of rights under the law shall not be denied or abridged by the United States or by any state on account of sex."
The House approved the amendment in October 1971, the Senate five months later. Ratification by the required 38 state legislatures seemed all but certain; 22 states gave their blessing by the end of 1972.
Anti-ERA
Schlafly launched STOP ERA -- the first word stood for "Stop Taking Our Privileges" -- and hosted an anti-ERA conference in St. Louis. She argued that the amendment, far from granting new rights to women, would abolish privileges enjoyed by them, such as exemption from the military draft and advantages in child-custody legal cases.
"I knew from the start that I had found enough seriously wrong with ERA to stop it, or at least stall it for an awfully long time," she later told Carol Felsenthal, author of the 1981 biography, "Sweetheart of the Silent Majority."
In a 1973 debate, Betty Friedan, co-founder of the National Organization for Women, told Schlafly: "I consider you a traitor to your sex. I consider you an Aunt Tom."
Thirty-five states approved the ERA during the seven-year window for ratification, three shy of the number needed. Five states that ratified the amendment later rescinded their approval.
Conservative Causes
Schlafly's work against the ERA "essentially launched the pro-family, pro-life movement," said James Dobson, founder of Focus on the Family, according to a 2005 story in the St. Louis Post-Dispatch.
Schlafly accused President Barack Obama, the last Democratic president to come under her scrutiny, of leading an attack on religious liberty. In her 2012 book "No Higher Power: Obama's War on Religious Freedom," she and co-author George Neumayr said Obama combined "cheerleading" for Islam with health, education and military politics undermining Christianity.
Schlafly was born Phyllis McAlpin Stewart on Aug. 15, 1924, in St. Louis, the first of two daughters of Bruce and Odile Stewart.
When her father lost his job as a heavy-equipment salesman during the Great Depression, her mother kept the family afloat by taking jobs as a department store saleswoman, a teacher and finally the librarian of the St. Louis Art Museum, according to Donald T. Critchlow's 2005 biography.
With her mother as a model, "I grew up believing that I should support myself," Schlafly said, according to a 2006 New York Times story.
Ammunition Tester
After excelling at Sacred Heart Academy in St. Charles, Missouri, Schlafly turned down a scholarship to a local Catholic college and enrolled at Washington University in St. Louis. To pay for her undergraduate education, she fired rifles and machine guns as an ammunition tester at an arms manufacturer.
She graduated Phi Beta Kappa in three years, then earned a master's degree in political science at Harvard University's Radcliffe College in Cambridge, Massachusetts.
She spent a year in Washington working at the think tank that today is the American Enterprise Institute. At 25, she married J. Fred Schlafly, a lawyer and civic leader in Alton, Illinois. He died in 1993.
Fighting Communism
In 1952, Schlafly won the Republican nomination for a seat in Congress and painted the Democratic incumbent, Melvin Price, as a coddler of communist sympathizers, according to a profile in the New Yorker. Her focus on communism endured after her election loss, as she and her husband helped found a group to organize Catholics against communism.
She was president of the Illinois Federation of Republican Women from 1960 to 1964.
Schlafly wrote "A Choice Not an Echo" to boost Goldwater's bid for the Republican presidential nomination. In it, she argued that a small group of "secret kingmakers" controlled the selection of Republican presidential nominees.
Published and initially distributed by Schlafly, the book became a sensation, with an estimated 3 million copies in print. Goldwater went on to win the GOP nomination, then lost the general election in a rout to President Lyndon Johnson. Still, his candidacy stirred American conservatism and is viewed as having laid the groundwork for Ronald Reagan's presidency.
In 1967, Schlafly began publishing the Phyllis Schlafly Report, a newsletter. For more than 30 years she also wrote a weekly syndicated newspaper column. She made a second unsuccessful bid for Congress in 1970 and founded the Eagle Forum in 1972.
Even while vexing the feminist movement, Schlafly maintained her own decidedly untraditional, liberated life. As the ERA debate raged, she returned to school to earn a law degree from Washington University.
She is survived by her children: John, Bruce, Roger, Andrew, Liza and Anne.
(
Updates with date and cause of death in second paragraph.
)
Before it's here, it's on the Bloomberg Terminal.
LEARN MORE