Pastor Burns Is the Latest Example of Trump's Surrogate Challenge
The Trump campaign has laid out new guidelines for surrogates after a series of mishaps.
By and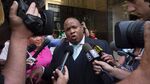 The Trump campaign took quick, delicate steps to distance itself from one of its most prominent black supporters after he tweeted a cartoon drawing of Hillary Clinton in blackface then walked out of a weekend TV interview when asked about misleading biographical statements on his website. 
The episode with Pastor Mark Burns, the South Carolina televangelist known for his full-throated, top-volume testimonials for Trump, comes as the campaign tries to rein in surrogates who have been creating negative headlines – even as their candidate tries to stick to a non-controversial course. 
Trump communications staff on Saturday sent talking points to the rest of their surrogates for use when reporters questioned them about Burns. One bullet point noted that he has never been an employee of the Trump campaign – he's a volunteer, according to the memo obtained by Bloomberg Politics. Another suggested: "Pastor Burns has a good heart but he made some mistakes, and he's apologized for them. We'll let him answer for what happened."
Burns could not be immediately be reached for comment.
The memo came on the heels of a controversy sparked Aug. 29 when Burns circulated a cartoon that showed Democratic presidential nominee in blackface. Burns, who is a frequent warm-up speaker at Trump rallies, apologized the next day for the "offensive picture" in his Twitter post.
Burns received conflicting advice about how to handle the situation – one aide signaled that Burns should apologize and another expressed frustration to Burns about the apology, according to a person familiar with the conversations. 
On Saturday, Burns made news again when he walked off the taping of an interview with CNN after being confronted about false statements on his website about his college education and other personal history.

He later issued a statement saying: "As a young man starting my church in Greenville, South Carolina, I overstated several details of my biography because I was worried I wouldn't be taken seriously as a new pastor. This was wrong, I wasn't truthful then and I have to take full responsibility for my actions."
The Trump campaign had approved Burns' CNN interview as part of a new internal policy that its surrogates check in before they go live on air. The idea is that communications staff can share the latest news and offer feedback if needed on their planned remarks, aides told Bloomberg.
After GOP operatives Kellyanne Conway and Steve Bannon took the helm of the Trump campaign in mid-August in the face of Trump's deficit in the polls, strict message discipline became a theme. Since their arrival, Trump has stuck to reading a pre-written script via a teleprompter at all his rallies.
As the candidate tries to avoid offending voters, his surrogates have been at the center of their own mini-controversies. A rash of "taco truck" memes broke out after Marco Gutierrez, founder of the group Latinos for Trump, said on MSNBC on Thursday: "If you don't do something about it, you're going to have taco trucks on every corner." Trump Organization lawyer Michael Cohen, a fierce defender of his boss, has been spoofed for his "says who" exchange on CNN. And Trump national spokeswoman Katrina Pierson has been skewered by critics for her verbal gymnastics on live TV.  
In a campaign memo last Wednesday, deputy communications director Bryan Lanza told the team's stable of surrogates not to book their own TV appearances anymore. 
"We are having too many issues of surrogates booking their media hits independently. We are now staffed up with our surrogate operation and are able to book everyone for their hits," Lanza said in the e-mail message last Wednesday evening. 
Lanza said the surrogates should call or e-mail him "and I will take care of all your booking needs." 
He added, in capital letters: "PLEASE DO NOT BOOK YOUR OWN ANYMORE."
Asked about the new policy, Senior Communications Strategist Jason Miller told Bloomberg: "We want to make sure that people who are communicating on behalf of the campaign are accurately and effectively communicating Mr. Trump's message. We have an excellent bunch of supporters doing just that and we couldn't be more proud of them."
In the remaining 60-some days until the general election, some of Trump's most popular surrogates – his oldest children – will pick up the pace of campaigning, aides told Bloomberg. One of their top targets will be Pennsylvania, a battleground state where the boys have childhood roots from their years at a university-preparatory boarding school in the southeastern city of Pottstown. 
"From now until Election Day the Trump campaign will have a huge presence throughout every part of Pennsylvania," said David Urban, a senior campaign adviser. "You will see Mr. Trump here often along with members of his family and high-profile surrogates asking for votes across a wide demographic."
Campaign strategists see Eric Trump as their ace on the radio circuit, saying he tears through half a dozen back-to-back interviews then asks for more. Donald Trump Jr. has been been a strong asset on the fundraising side, they said. Ivanka Trump is scheduled for a handful of upcoming events including one Tuesday in Virginia with female military veterans and wives and mothers of veterans. Eric's wife, Lara, a North Carolina native, is also on TV and on the road, including travels in Ohio and Virginia this week. 
Meanwhile, Team Clinton announced Tuesday morning that it's sending some surrogates out on the trail to speak for her during the post-Labor Day rush – President Barack Obama, First Lady Michelle Obama, Vice President Joe Biden, her daughter Chelsea Clinton, U.S. Senator Elizabeth Warren, and former presidential contender Bernie Sanders.
Before it's here, it's on the Bloomberg Terminal.
LEARN MORE