Photographer: Kiyoshi Ota/Bloomberg
Odd Lots: What a 12-Year-Old Knows About Money That an Economist Doesn't
Money, money, money.
By and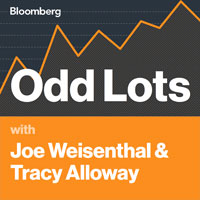 Subscribe to the Bloomberg Odd Lots podcast (Pocket Casts) 
Subscribe to the Bloomberg Odd Lots podcast (iTunes)
Every week, hosts Joe Weisenthal and Tracy Alloway take you on a not-so-random walk through hot topics in markets, finance, and economics.
"What is money?" This seemingly simple question has the ability to drive people crazy. Is it a unit of account? Is it something about exchange? Does it have to be blessed by the government or backed by something hard?
On this week's podcast, we speak with fund manager Eric Lonergan, the author of "Money (The Art of Living)," to answer this question as well as the other vexing ones that spring from it. Ultimately we get an answer that's as simple as the question itself — one that would make more sense to a typical 12-year-old than an economist.
Before it's here, it's on the Bloomberg Terminal.
LEARN MORE