Obama Spat Signals Risks to Betting on Unpredictable Duterte
By and
China unlikely to gain as Duterte 'often talks incoherently'

'The rest of the world is looking with great concern'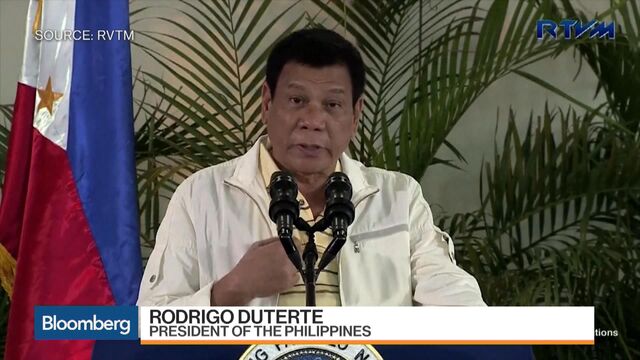 While Philippine President Rodrigo Duterte proved this week that he can apologize almost as fast as he can offend, his unpredictability risks unsettling global leaders and investors alike.
Duterte's latest diplomatic dust-up, this time offensive comments aimed at U.S. President Barack Obama, led to Washington calling off talks between the two leaders at a regional summit in Laos. On its face a rift between the longtime allies would appear to provide an opening for China, but in reality it just made the Philippine leader look unsteady: And that's not good for anyone.
"It could hardly be perceived as an opportunity because Duterte often talks incoherently and is temperamentally unstable," said Li Jinming, professor of international relations at the Research School of Southeast Asian Studies at Xiamen University in China's Fujian province. "He could say one thing today and utter the entire opposite tomorrow."
That tough-talking style has boosted Duterte's popularity at home as he aggressively takes on drug dealers, criminals and insurgents in a nation where security is often perilous. Yet for governments and companies that prize stability, the rhetoric may prompt them to pull aid or investment at a time when the Philippines is shedding its reputation as the "Sick Man of Asia."
For now, the risk is mainly over the long term, according to Joey Cuyegkeng, a senior economist at ING Groep NV in Manila. Growth prospects are favorable, inflation is low and manufacturing activity is increasing.
Yet that could all change: "Extra-judicial killings and statements that may antagonize long-time allies" have "elicited growing concerns also from investors," Cuyegkeng said. "We believe that such political developments and concerns if unchecked would have a more profound impact on markets and the economy."
Stocks Fall
The Philippine Stock Exchange Index fell as much as 1.3 percent, poised for its lowest close since June. Duterte's comments contributed to concerns over U.S. interest rates, elevated valuations and overseas fund withdrawals, according to Jonathan Ravelas, chief market strategist at BDO Unibank Inc., the largest Philippine bank.
"The latest incident raises concerns that President Duterte's unpredictable behavior in politics would be disruptive and could eventually spill into economics and business," Ravelas said.
Philippines central bank Governor Amando Tetangco on Tuesday urged Duterte's administration to stay on message.
"What we would need is to explain better what the objectives of the policies of government are" to avoid misunderstandings "that can lead to a different picture of what the government is trying to do," he said.
'I Will Curse You'
The latest kerfuffle began on Monday as Duterte spoke to reporters before heading to a regional summit in Laos. He used an obscenity to describe Obama and said if the U.S. president questioned him over his drugs war "I will curse you in that forum."
Obama then decided to cancel a one-on-one meeting with Duterte. Hours later, the Philippine leader sought to do damage control, saying in a statement that he regretted that his comments "came across as a personal attack." The White House said late Wednesday night that Obama and Duterte met informally and exchanged pleasantries before a dinner for ASEAN leaders.
The encounter signaled the pair were ready to mend fences at a critical forum for the two treaty allies, who have frequently used the summit in recent years to jointly express concern over China's territorial ambitions.
While Philippine commentators often deride the U.S. for its colonial past -- sentiment that prompted the country to expel American forces from a base at Subic Bay in the 1990s -- security ties had increased under Duterte's predecessor, Benigno Aquino.
A new military agreement, which was signed in 2014 to the dismay of China, allows the U.S. to increase the number of troops deployed to the Philippines for war games, as well as bring equipment into military sites including Subic Bay. The Philippines is also the biggest recipient of U.S. maritime security assistance in Southeast Asia.
'Bloody' War
Such funds may be at risk if U.S. lawmakers grow more concerned at extra-judicial killings in Duterte's drugs war, according to Ian Storey, a senior fellow at the ISEAS-Yusof Ishak Institute in Singapore.
"Whether there will be any further fallout remains to be seen," Storey said. "But the incident is indicative of where U.S.-Philippine relations are heading under Duterte."
For China, Duterte has similarly been hard to read. Last month he said he expected to have bilateral talks within the year, only to warn China the next day of a "bloody" war if Beijing attacked. Hua Chunying, a spokeswoman at China's Foreign Ministry, told reporters on Tuesday that China is "willing to make a joint effort with the Philippine side to rebuild mutual trust and push forward the bilateral ties."
'Eccentric Character'
Any easing of tensions between China and the Philippines could start with areas like maritime research, environmental protection and trade, according to Kang Lin, a deputy director of the National Institute for South China Sea Studies's Research Centre for Oceans Law and Policy in Hainan province. His boss, Wu Shicun, was part of a Chinese team that met Filipino counterparts last month for talks in Hong Kong.
Yet even so, Kang isn't optimistic. Obama's term is soon coming to an end, and Duterte is hard to read.
"Duterte is an eccentric character who tends to say anything that pops up in his mind, sometimes without too much political consideration," Kang said.
China overtook the U.S. in 2006 as the Philippines' biggest trading partner and hasn't looked back, despite increasing tensions over territorial disputes. The U.S. remains the biggest foreign direct investor in the Philippines by equity.
Even though Duterte hasn't said anything of major concern in terms of economic policy, his penchant for surprises poses a risk in itself, said Mark Williams, London-based chief Asia economist at Capital Economics Ltd.
"The rest of the world is looking with great concern at some of the things that
Duterte is saying," Williams said. "Investors like predictability -- they like to have a sense that they know where things are going -- and so if someone comes in and seems to be willing to tear up the normal ways of doing things, it's generally not welcomed."
— With assistance by Ting Shi, Siegfrid Alegado, Justin Sink, Ian C Sayson, and Norman P Aquino
Before it's here, it's on the Bloomberg Terminal.
LEARN MORE