Musk Confronts Wall Street Divided on Tesla in Plea to Workers
By
One-year share-price targets range from $160 to $500

Musk asks workers to cut costs ahead of planned capital raise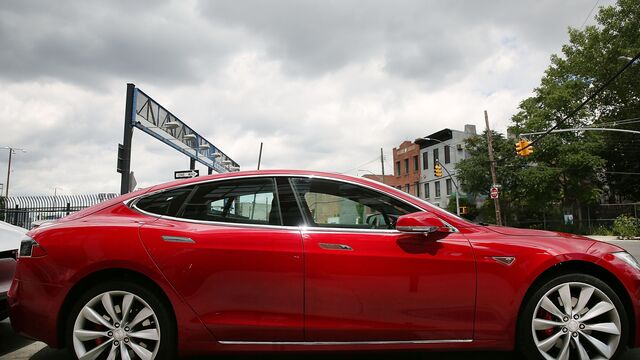 Elon Musk's latest admonition to Tesla employees -- produce more, spend less -- is no simple belt-tightening before he asks investors for more cash. It also reflects Wall Street's schism about the health of the electric-car maker.
Musk urged workers to cut costs and deliver "every car we possibly can" in an Aug. 29 e-mail obtained by Bloomberg News on Friday. Showing positive cash flow this quarter will make it easier for Tesla Motors Inc. to raise funds in the year's final three months to complete the new Model 3 vehicle and its so-called gigafactory that makes batteries.
"We will be in a far better position to convince potential investors to bet on us if the headline is not 'Tesla Loses Money Again,' but rather 'Tesla Defies All Expectations and Achieves Profitability,'" Musk wrote. "That would be amazing!"

The chief executive officer's message shows the urgency of making a good impression on Wall Street, where analysts are split about Tesla's prospects. Of 19 analysts surveyed by Bloomberg, as of Friday seven had a buy rating, seven had a hold, and five recommend selling the shares. Colin Langan of UBS Securities has the lowest 12-month price target, at $160 a share, while Charlie Anderson of Dougherty & Co. has the highest, at $500. The stock, down 18 percent this year, closed at $197.78 at the end of last week.
The gap between analysts' estimates isn't a typical bull versus bear divide. It's a starker division: Call it the Fundamentalists versus the True Believers.
The Schism
Fundamentalists cringe at the company's cash burn, along with the number of projects that Musk has bolted on to the electric-car company. The more bullish analysts tend to believe in the billionaire's long-term vision of a greener future, with Tesla's formidable brand leading the way.
"Our $160 price target is based on our discounted cash-flow analysis, which is a fundamental valuation," Langan said in an e-mail. "Broadly, there is a lot of uncertainty in TSLA given ranging views of production, profitability and cash needs. I am cautious on both hitting 2018 and 2020 production targets."
Langan also said he has reservations about the Model 3, Tesla's lower-priced sedan, which will start selling at $35,000 before incentives.
Model 3
"I am concerned about the profitability of the Model 3 given the challenging economics of producing a vehicle at that price point given the still-high battery costs," he said.
Tesla currently makes the all-electric Model S sedan and Model X sport utility vehicle on a joint assembly line at its factory in Fremont, California. The company delivered just 50,658 vehicles last year but aims to make 500,000 cars by 2018. It's racing to retool the Fremont factory for the Model 3, which is slated to begin volume production in late 2017.
Simultaneously, Tesla is building the gigafactory east of Reno, Nevada, for battery-cell production, which is expected to begin in the fourth quarter. Driving down battery costs is key to delivering the Model 3 at the lower price that the market is expecting.
Autonomous Driving
On top of all that, Musk is seeking to make Tesla a leader in autonomous driving, though a fatal accident involving the company's Autopilot technology is under investigation by U.S. safety regulators. And Musk has also proposed acquiring SolarCity Corp., where he's chairman and the company's largest shareholder, while his cousin, Lyndon Rive, serves as CEO. The proposed merger, now under review by the Securities and Exchange Commission, could go to a vote before shareholders of both Tesla and SolarCity in October.
Even some of Tesla's traditional bulls have shown wild swings in their price forecasts. Morgan Stanley analyst Adam Jonas had a target of $465 last September. He has since lowered it three times, with the latest coming in June after the SolarCity deal was announced. Jonas lowered his target to $245 from $333, citing the risk of the deal, among other concerns.
When Tesla unveiled the Model 3 earlier this year, it was Musk's iPhone moment. Hundreds of Tesla enthusiasts lined up overnight at stores around the world to place their $1,000 preorders, a spectacle unprecedented in the auto industry. Ultimately, about 373,000 reservations were made.
True Believers
That's helped to energize the True Believers. Palo Alto, California-based Tesla has grown into a formidable brand, particularly among millennials. Model 3 reservations skew young and urban. Doughtery & Co. raised its price target to $500 shortly after the Model 3 reservations came in so high above expectations.
"We continue to believe that demand is there for the Model 3 and any future vehicles, and that's why we remain bullish," Anderson said in an e-mail. "Our outcome is that they become as large as BMW is today by 2025 in terms of vehicle volumes. As vehicles go fully electric -- we're now seeing substantially more automakers announce EV plans -- they have the technology lead and the brand to take considerable market share."
SolarCity Woes
Tesla shares took a hit last week after an Aug. 31 regulatory filing reiterated that SolarCity is getting closer to defaulting on $3 billion in debt. Tesla announced its bid to acquire SolarCity in June, and a two-person committee of the SolarCity board approved the all-stock offer, now valued at roughly $2.3 billion. In the first six months of the year, Tesla burned through $611 million in cash, and SolarCity went through $433 million, according to data compiled by Bloomberg.
Tesla's quarterly earnings calls, which hundreds of enthusiasts, analysts, investors and journalists dial in to, are a fascinating window into the divide. Questions range from cash flow, borrowing capacity and management focus to Tesla's progress toward fully autonomous cars.
Musk owns 20.92 percent of Tesla, making him by far the largest shareholder, according to data compiled by Bloomberg. In his e-mail to employees, he said the company is "on the razor's edge" of achieving profitability and positive cash flow for the third quarter.
"I'm confident that we can rally hard and push the results into positive territory," he wrote. "It would be awesome throw a pie in the face of all the naysayers on Wall Street who keep insisting that Tesla will always be a money-loser!"
Watch Next: Big Oil Should Fear Tesla – Dead or Alive