U.K. Flight Chaos on BA Computer Glitch, London City Protest
by
British Airways staff resort to handwritten boarding passes

Activists chained to tripod block City's single runway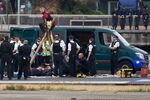 Airline passengers in London suffered a morning of chaos Tuesday after a computer fault froze check-in systems at British Airways and the U.K. capital's City airport was closed when protesters blocked the runway.
An outage that affected British Airways passengers in the U.S. overnight caused disruption across the carrier's network Tuesday, with dozens of flights delayed at its London Heathrow and Gatwick hubs and staff forced to issue handwritten boarding passes in order to keep flights operating.
At London City airport a group of nine activists from the Black Lives Matter campaign group chained themselves to a tripod positioned on the single landing strip, causing the terminal favored by corporate travelers to shut to traffic.
British Airways later said its systems were back online at bases including Heathrow and Gatwick, though check-in is taking longer than usual due to the backlog of flights. Travelers can alternatively register via the BA website and print their own boarding passes, according the airline, which advised people to travel to their airport for the scheduled departure time.
An investigation will be initiated to determine the cause of the computer glitch, said Sophie Greenyer, a spokeswoman for the unit of London-based International Consolidated Airlines Group SA.
Cutting Gear
The BA outage comes after Delta Air Lines Inc. last month suffered 2,300 flight cancellations, costing about $100 million in lost revenue, after a power-control module caught fire. A computer failure at Southwest Airlines Co. in July also cost "tens of millions" of dollars and affected a similar number of services.
Flights at London City were disrupted from at least 5:40 a.m., when the authorities were alerted to the runway incursions, with local press reports suggesting they may have got to the docklands site by boat.
The Metropolitan Police said in a statement that officers were negotiating with the protesters while "awaiting the arrival of specialist resources" to break the locks. All nine people were later removed from the runway and arrested on suspicion of aggravated trespass, being unlawfully airside and breaching London City's bylaws.
As of 12:20 p.m. local time the airport's website said that it was preparing to "resume operations as soon as possible."
Heathrow suffered a security breach in July 2015 when climate-change protesters from the Plane Stupid group chained themselves together on the northern landing strip, causing the cancellation of at least 21 flights.
Before it's here, it's on the Bloomberg Terminal.
LEARN MORE