Hammond to Discuss Brexit Plans in Talks With Senior Bankers
By
Chancellor to host group of finance, insurance chairmen

Meeting follows pressure from banks over Brexit strategy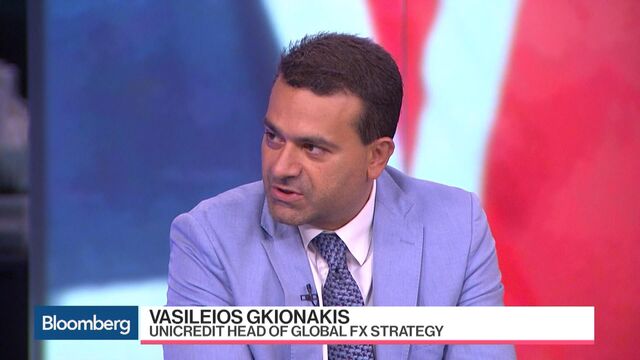 Chancellor of the Exchequer Philip Hammond will meet senior bankers in London on Wednesday to set out the government's plans to support the economy and sound out their views for a post-Brexit Britain.
Hammond will host several members of the European Financial Services Chairmen's Advisory Committee, a group of banking and insurance-industry executives, the Treasury said in an e-mailed statement. The body, convened to organize the finance sector's response to Brexit, is led by the chairman of Banco Santander SA's U.K. unit, Shriti Vadera. The chancellor will hold further discussions with financial-services representatives next month.
Prime Minister Theresa May is coming under pressure from some of the world's biggest banks to strike an interim agreement with the European Union for financial companies before formal exit talks start, a process that won't get under way before early next year. Hammond will seek to reassure financial executives that the Treasury will continue to protect the City of London's interests as it helps carve out a plan for Britain's position outside the bloc.
"We want to ensure the continued investment that creates jobs and supports wage growth throughout this period of uncertainty ahead of the U.K. formally leaving the EU," Hammond said. "That means engaging in open and constructive dialogue with business leaders in the months ahead."
Wednesday's event will be the first of a series of round tables over the coming months with a range of industry executives, from technology to retail, ahead of the Autumn Statement, the chancellor's year-end policy announcement in Parliament.
UBS Warning
Major investment banks and insurers have said they may start shifting staff and operations to elsewhere in the EU should Britain fail to win special status. UBS Group AG said Tuesday it may have to transfer as many as 1,500 jobs from London to elsewhere in Europe, while Lloyd's of London said a day earlier it may have to move part of its business if access to the EU single market isn't maintained.
Passporting, the ability of banks to freely sell services and products across the EU, will be a key part of negotiations between the U.K. and the bloc. Brexit Secretary David Davis said Tuesday it's "very improbable" that Britain can stay in the single market if it means ceding control over migration, though May has spoken of her ambition to go after the "best possible deal in trade and services" after Brexit.
Securing ongoing access to the EU single market on broadly similar terms to now is absolutely vital to maintaining a vibrant U.K. financial-services sector, TheCityUK said in a briefing paper Wednesday. 
The lobby group is calling on the U.K. government to strike an interim agreement with the EU on preserving passporting rights for a transitional period after the end of two years of official Brexit negotiations.
"The industry is not asking for a bonfire of regulation and the sector should continue to be regulated in accordance with leading global standards," TheCityUK said in the paper.
Watch Next: Can Hammond Bank on City's Support on Brexit?