Photographer: Mike Wilkinson/Bloomberg
Corbyn Seeks 65 Percent Renewable-Power Use in U.K. by 2030
By
Goal would require more than tripling of renewables growth

Target would beat the ambitions of China and Germany
Jeremy Corbyn, who leads the U.K.'s opposition Labour Party, wants the nation to get 65 percent of its electricity from renewables by the end of the next decade and to build up the country as a major producer of clean-power technologies.
The 67-year-old member of Parliament, campaigning to retain command of his party against Owen Smith, revealed the target in an environment manifesto that also pledged to create more than 300,000 jobs in the clean-energy industry by 2030.
"We want Britain to be the world's leading producer of renewables technology," Corbyn, who plans to be in Nottingham on Wednesday, said in a statement from his office. "We will accelerate the transition to a low-carbon economy and drive the expansion of the green industries and jobs of the future using our National Investment Bank to invest in public and community-owned renewable energy."
A statement from Corbyn's office sent Tuesday originally suggested Corbyn wanted to see renewables account for 65 percent of the U.K.'s final energy use, which includes power generated for heat as well as electricity, and would be extremely ambitious given that renewables currently account for less than 10 percent of final energy demand. His spokesman confirmed later that the target only applied to power.
The target is "ambitious but feasible," said Andreas Gandolfo, Bloomberg New Energy Finance analyst. The U.K. is currently on track to reach a 50 percent share of electricity from wind and solar in 2030, which would require about $75 billion of investment in those technologies, he said.
"But throwing more money at wind and solar once you get to 50 percent brings little gains," he said. "It's at that point that you need to find some other technology, which we currently think will include batteries."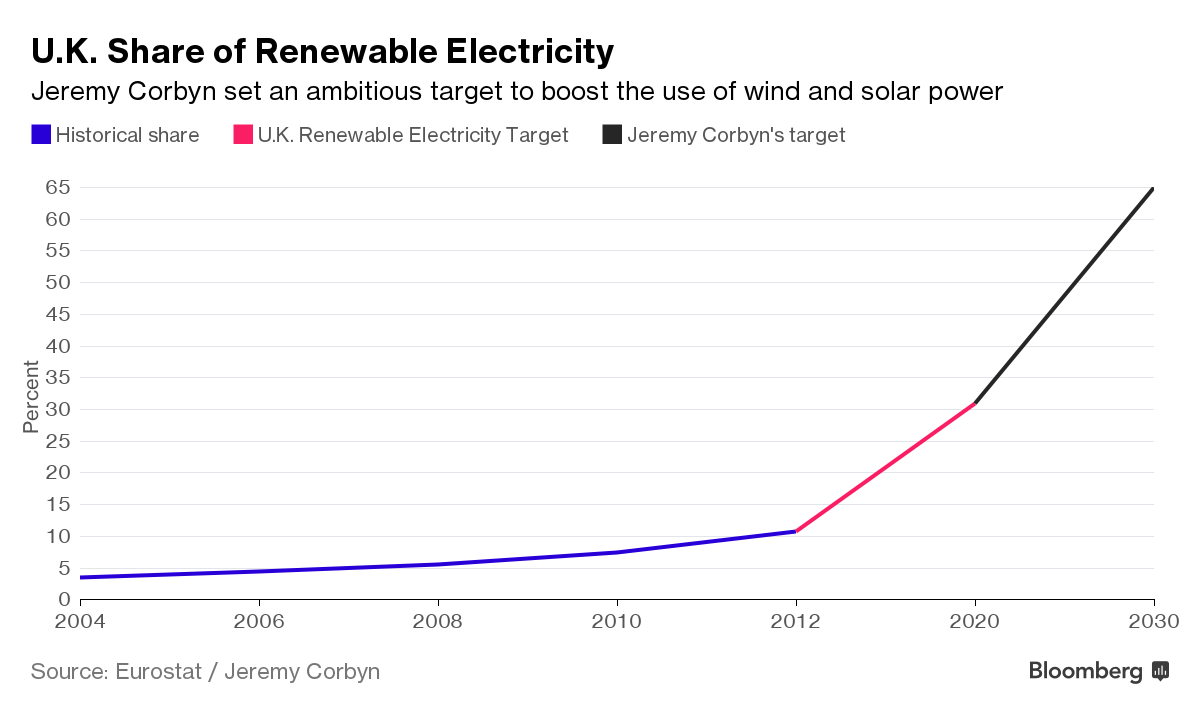 The U.K. already is almost certain to miss its 2020 target of 15 percent of energy from renewables, according to National Grid Plc. About 8 percent of overall energy and 25 percent of electricity was generated from clean sources in 2015. In Germany, after two decades of generous subsidies, the figure reached 32 percent last year, with the government targeting 45 percent by 2025. In China, renewables including hydropower supplied 24.5 percent of electricity last year.
Corbyn's other environmental pledges would:
Set a target date to end new fossil fuel extraction
Ban the extraction of shale gas through hydraulic fracturing, or fracking

Make building insulation a national infrastructure priority, retrofitting a least 4 million homes
Replace the capacity mechanism with a new Clean Power Mechanism that prioritizes demand side response and low carbon technologies
Promote the growth of more than 200 local energy companies that would challenge the "Big Six" utilities
Back the development of 1,000 community energy co-operatives
Reinstate the Department of Energy and Climate Change. Theresa May merged DECC with the Department for Business, Innovation and Skills, as one of her first acts as prime minister last month.



The challenger for leadership over the Labour Party, Owen Smith, said Corbyn lacks credibility on environmental policy.
"He's called for the reintroduction of deeply damaging open-cast coal mining, only had one meeting with his shadow environment team in nine months as leader, and didn't utter a word of protest when Theresa May scrapped the Department for Energy and Climate Change," Smith said in a statement issued by his office.
Before it's here, it's on the Bloomberg Terminal.
LEARN MORE