Photographer: Michele Limina/Bloomberg
Cash in a Box Catches On as Swiss Negative Rates Bite
By and
Demand surging for insurance to protect cash stores from theft

Businesses resorting to vaults as banks pass on negative rates
It's a sign the world is getting used to negative interest rates when what once seemed bizarre starts looking like the norm.
Consider Switzerland, where more and more companies are taking out insurance policies to protect their cash hoards from theft or damage.
"Because of the low interest rate level, we note increasing demand for insurance solutions for the storage of cash," said Philipp Surholt at Zurich Insurance Group AG, among underwriters reporting a surge in such requests. "We're seeing demand for coverage for sums ranging from 100 million to 500 million francs."
QuickTake Negative Interest Rates
The Swiss National Bank imposed sub-zero rates in early 2015, effectively charging banks for excess deposits. Many lenders including UBS Group AG and Credit Suisse Group AG have passed on at least some of the burden -- they don't disclose how much -- to cash-rich clients like asset managers and big companies.
While the central bank is seeking to rein in the franc, negative interest rates have side effects that over time could outweigh the benefits. That risk may be on the minds of SNB officials when they meet next week for their scheduled quarterly monetary policy review. Economists expect they will keep the rate steady at minus 0.75 percent, the lowest among major central banks.
"The SNB's dilemma is that it can't make everyone happy," said Alexander Koch, an economist at Raiffeisen Schweiz. "In its attempt to get the best deal for the Swiss economy, it also has created losers and collateral damage."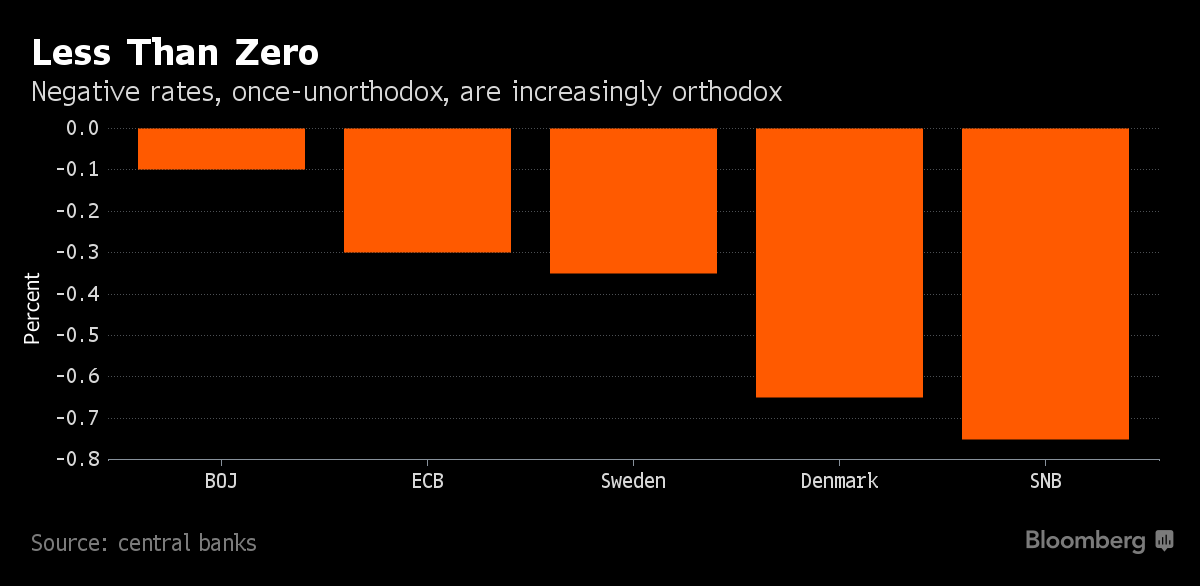 Helvetia Holding AG said it charges about 1,000 francs ($1,020) a year to insure 1 million francs, a fraction of the 7,500 francs a company would pay to park the same amount in a bank for a year -- assuming the lender passes on the full charge. But that amount doesn't include the cost of logistics such as transport or security features like reinforced walls, guards and alarm systems.
Companies need to save a lot on bank fees for cash storage to be economical because, in addition to insurance, they have to assume the costs of managing the money, said Roberto Brunazzi, a spokesman for Baloise Holding AG. He said the company has long offered such coverage "but there has been a noticeable increase and now it's becoming more commonplace."
Switzerland's continued use of high-denomination banknotes adds to the appeal of self-storage: About 1 million francs worth of 1,000-franc bills can fit in a small box.
For an overview of negative interest rates, click here.
The SNB's rate applies to sight deposits -- cash that commercial banks hold at the central bank -- that exceed 20 times a bank's required minimum, an amount set by the SNB and that varies from lender to lender. Private banks, which have lower thresholds because they are less active in lending, exceeded their exemption limit almost from the start. For other bank categories, deposits stayed either under or just above the threshold for much of last year.
This year, though, the levels have jumped, prompting some banks to warn that they may one day have to charge ordinary savers -- not just big customers -- for liquidity. In June, UBS and Credit Suisse exceeded their combined minimum required deposits by about 26 times, putting them about 25.8 billion francs over their exemption. Swiss cantonal banks were about 24 times over the amount they are required to hold at the SNB, or about 12.5 billion francs over their threshold, according to SNB data, which doesn't break down the figures by bank.
"Negative rates are the dominant topic," said Markus Gygax, chief executive officer of the Swiss retail bank Valiant Holding AG. "As long as the interest rate on credit keeps falling, it's a big problem for us."
UBS Chief Executive Officer Sergio Ermotti said in March that negative interest rates are encouraging risky lending practices among some banks, potentially posing a threat to the wider financial system. He described deposits as a de facto "loss-making proposition."
UBS will consider passing on negative rates to its wealthiest clients and increasing interest charged on loans if the situation drags on, he told shareholders in May.
"Consumers are shielded from the negative interest rates so far," Oliver Adler, an economist at Credit Suisse, told Bloomberg Television's Anna Edwards and Rishaad Salamat on Tuesday. "Large institutional investors have had to pay, but in the overall context it's not dramatic."

Companies aren't the only ones bypassing banks. Some lenders that are below the SNB's threshold are taking on other banks' cash for a fee. A "market for liquidity" has developed between the banks as a result of negative rates, the Swiss Banking Association said last week in its annual report on the industry.
"Cash hoarding is a problem for monetary policy," Koch said. "It's a question of efficiency: the more corporates hoard cash, the smaller the impact of negative rates."
Negative rates kicked in just days after the SNB scrapped its minimum exchange rate, causing the franc to soar. The currency, a traditional haven for investors in times of economic uncertainty and market turmoil, has depreciated 0.3 percent against the euro this year.

Swiss central bankers have said they could further cut rates, with economists seeing the lower bound at minus 1.25 percent. Policy makers have also said that changing the exemption threshold for negative rates is among their options should more action be required.
For now, the SNB says it hasn't seen evidence of widespread cash hoarding in Switzerland.
Watch Next: Swiss Economy Expands Ahead of Central Bank Decision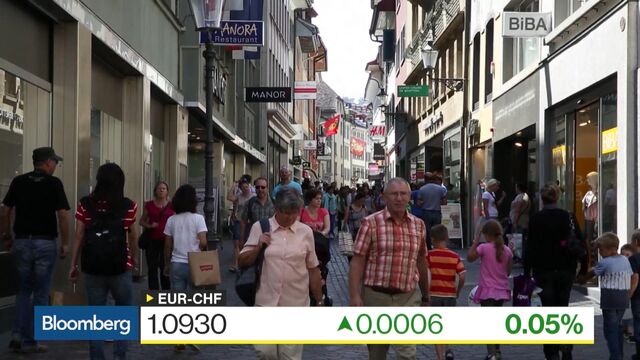 The SNB's negative rates policy is "necessary and is working," Vice President Fritz Zurbruegg said in Lugano last week, according to Corriere del Ticino. "We continually evaluate the positive and negative aspects of our policy and currently we are convinced that the positive aspects are in the majority. "