Carney's Brexit Nemesis Says Bank Acted Too Early
By and
Tory lawmaker Rees-Mogg will question governor on Wednesday

Policy makers cut interest rate, expanded QE last month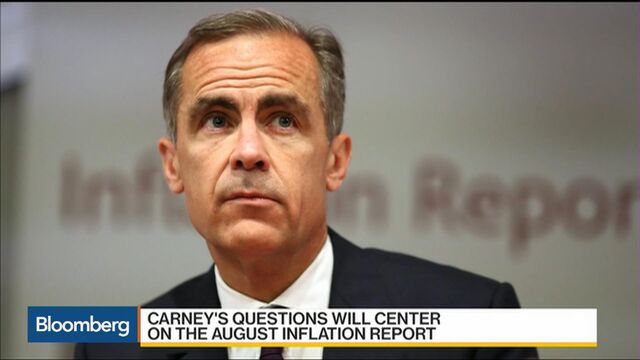 Mark Carney jumped the gun by easing monetary policy last month, according to the U.K. lawmaker who called this year for the Bank of England governor to be fired for warning about the costs of leaving the European Union.
"Once you don't trust him to be impartial, you begin to think that all his actions have a political spin to them and therefore people make the criticism that he cut rates in a panic to prove himself right," Jacob Rees-Mogg, a pro-Brexit member of the House of Commons Treasury Committee, said in an interview on Monday. "He has undermined the perception of impartiality of the Bank of England and that makes it harder for the Bank of England to do its job."
The comments set the stage for a robust exchange when Carney takes questions from the panel on Wednesday, his first public appearance since the BOE unleashed a barrage of stimulus on Aug. 4, including the first interest-rate reduction since 2009. The governor, alongside one of his deputies, Jon Cunliffe, and officials Gertjan Vlieghe and Kristin Forbes, is likely to be asked whether they acted too quickly in response to the Brexit result and did too much. 
With recent data showing the economy rebounding strongly from the initial shock of the June 23 referendum result, investors have pared bets on a further rate cut this year and now see just a 25 percent probability.
"He acted too early in my view," said Rees-Mogg, a ruling Conservative Party member of Parliament and founding partner of Somerset Capital Management. "There was not sufficient evidence at that point that further monetary stimulus was needed and there are adverse consequences of abnormally low interest rates as well as beneficial consequences."
Click here to set a reminder to watch Carney's testimony live.
Carney and Rees-Mogg clashed in often heated hearings during the referendum campaign. In one, the lawmaker accused the governor of compromising the independence of the BOE by adopting the same "propaganda" as the Treasury. Carney, in turn, has questioned Rees-Mogg's judgment and motivation.
"I think his behavior was quite wrong for a governor of the Bank of England, as I've made clear," Rees-Mogg said in the interview. "I don't want to run that into a general slanging match with Mr. Carney over everything he does. I'm not setting out to be his arch critic. If I can find something nice to say to him on Wednesday I will say it, though that may at the moment be quite a big 'if."'
The BOE declined to comment, except to highlight Carney's remarks at the Aug. 4 Inflation Report press conference in which he argued the extra stimulus was timely and necessary.
Sign up to receive the Brexit Bulletin, a daily briefing on the biggest news related to Britain's departure from the EU.