markets
Brexit Poses Risks to U.K. Current-Account Deficit, Fitch Says
By
Losing access to EU markets not favorable for funding gap

Shortfall was 6.9% of GDP in first quarter, near a record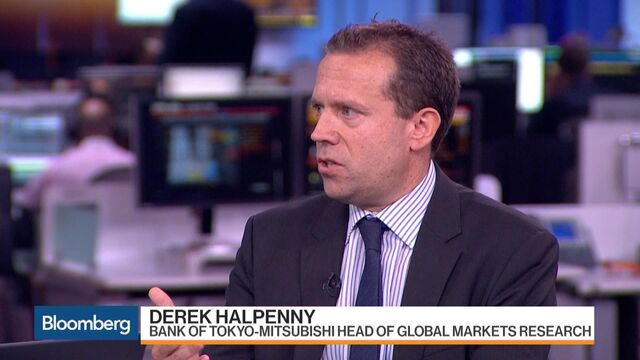 Brexit without access to European Union markets could exacerbate the U.K.'s near-record current-account deficit, according to Fitch Ratings.
"Long-term, it is possible that, with the right deals negotiated, the U.K. retains its access to EU markets and, by extension, its status as a global financial center," James McCormack, Global Head of Sovereign Ratings at Fitch, said in an e-mailed report. In this scenario, Britain's future balance of payments may be no cause for worry, he said.
"Another, less favorable, scenario sees the U.K. without EU access, and with a diminished role in global finance," McCormack said. "Direct investment could stop, or reverse, and the current-account deficit would be funded largely by external borrowing. Rising external debt would not be a positive development."
The vote to leave the EU has heightened concerns about the current-account balance, with economists warning that foreign investors may be less willing to finance the shortfall by buying U.K. assets. It could leave Britain increasingly reliant on what Bank of England Governor Mark Carney has described as "the kindness of strangers."

The current-account deficit -- the difference between money coming into the U.K. and money sent out -- stood at 32.6 billion pounds ($44 billion) in the first quarter, or 6.9 percent of economic output. That's just below the record 7.2 percent seen in the previous three months. It was 5.4 percent of gross domestic product for 2015 as a whole, the largest since records began in 1948.
Stephen King, senior economic adviser to HSBC Holdings Plc, said on Tuesday some foreign investors have only invested in Britain because the U.K. is a member of the EU single market and Brexit risked losing that funding.
"If people have been investing in Britain to be part of the single market and Britain is no longer part of the single market, there is every chance that foreign companies -- Japan, the U.S. and elsewhere -- would choose no longer to invest in Britain," he said in an interview with Bloomberg Television's Francine Lacqua. "That means you have a black hole in your current-account deficit."
However, even without EU access and global financial center status, it is possible that U.K. funding issues do not materialize, Fitch's McCormack said.
While uncertainty surrounds future trade terms with the EU -- the destination for almost half of British exports -- the current-account deficit could narrow as a weaker pound boosts exports and stronger growth in the euro region delivers investment income, some economists say. Carney said last month that BOE policy makers expect the U.K.'s current-account deficit halving in the next three years.
Before it's here, it's on the Bloomberg Terminal.
LEARN MORE