Brexit Bulletin: Where's the Plan?
Theresa May's government seems big on slogans, small on detail.
By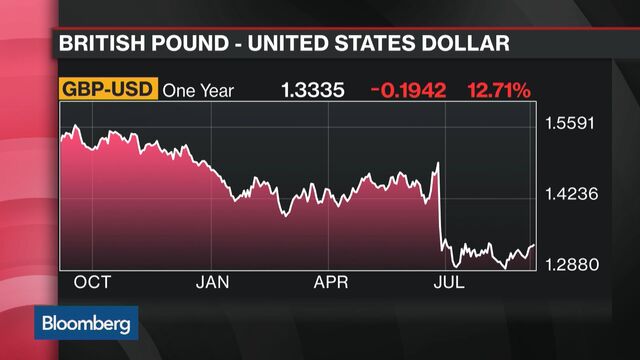 Sign up to receive the Brexit Bulletin in your inbox.
Brexit Secretary David Davis says he now has a staff of 180 in London and 120 advisers in Brussels to help him pull the U.K. out of the European Union. What he doesn't have, according to U.K. lawmakers, is a plan.
In his first ever appearance in the House of Commons as a Cabinet minister—29 years after becoming a member of parliament—Davis spent more than two hours taking questions about Brexit without fleshing out many details of his and Prime Minister Theresa May's strategy for achieving it.
"Naturally, people want to know what Brexit will mean," said Davis. "Simply, it means the U.K. leaving the European Union. We will decide on our borders, our laws and taxpayers' money."
That failed to appease opposition critics. 
"What has happened since July? What is the plan?" asked Labour's Brexit spokeswoman, Emily Thornberry, while Liberal Democrat Leader Tim Farron called it "the speech that didn't say anything."
Davis can bat away such barbs for the moment as parliamentary cut-and-thrust, but he and May know they will have to provide details soon or run into complaints from European leaders, company executives and investors. 
The Daily Mail reported today, citing people close to May, that Downing Street is looking at whether to say people can only enter the country from the EU if they have job offers. 
What Do We Know?
Piecing together Davis's statement and May's comments over the past week, negotiating lines are beginning to emerge. 
We know controlling immigration tops the government's list of priorities. But May has rejected following Australia's lead and the advice of pro-Leave leaders by refusing to introduce a "points-based" system. 
While the U.K. is keen to keep trade links and thinks the EU will want to maintain them too, it's willing to give up access to the single market if needed. "This government is looking at every option, but the simple truth is that if a requirement of membership is giving up control of our borders, I think that makes it very improbable," Davis said of staying in the single market.
May also wants the U.K. to secure a bespoke trade model rather than copy the relationship with the EU enjoyed by the likes of Canada, Norway or Switzerland.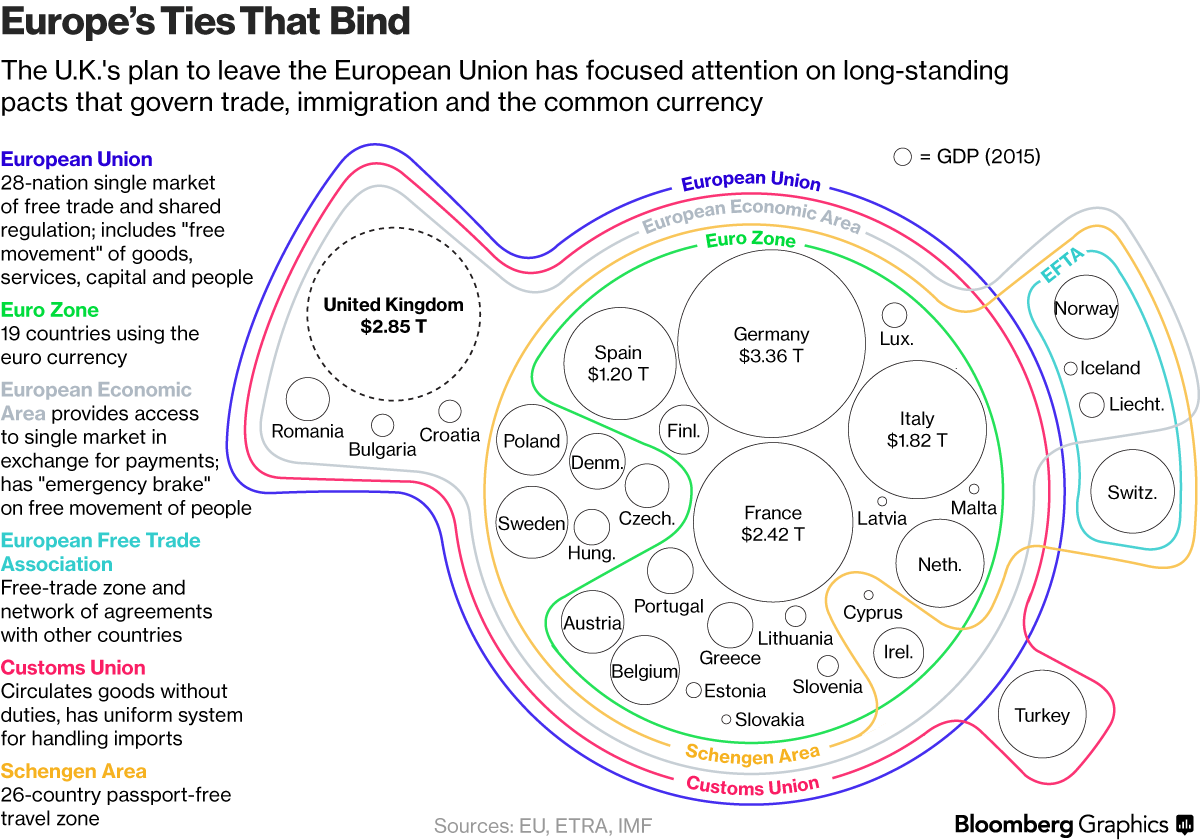 Still unanswered is when in 2017 May will start the negotiations, what trade deal she will seek, how the country will tackle immigration and whether the U.K. will contribute anything to the EU's coffers.
Carney's Tormentor
Bank of England governor Mark Carney jumped the gun by easing monetary policy in August, according to Jacob Rees-Mogg, the Member of Parliament who called for Carney's dismissal after he warned about the costs of leaving the EU.
Rees-Mogg, a pro-Brexit member of the House of Commons Treasury Committee, said in an interview on Monday:
"Once you don't trust him to be impartial, you begin to think that all his actions have a political spin to them ... He has undermined the perception of impartiality of the Bank of England, and that makes it harder for the Bank of England to do its job."
The comments set the stage for a robust exchange when Carney appears before the panel on Wednesday, his first public appearance since unleashing a stimulus package on Aug. 4. 
Morgan Stanley today followed Goldman Sachs in raising its outlook for the U.K. economy. It no longer predicts a recession and now anticipates growth of 1.9 percent this year, rather than 1.2 percent. 
Still, the British Retail Consortium reported overnight that like-for-like retail sales fell 0.3 percent in August from July on an annual basis. Berkeley Group also said reservations for new homes dropped 20 percent in August from a year earlier.
Goldman Sachs Adviser Role Probed
The EU's ethics watchdog is seeking clarifications from the European Commission after former president Jose Barroso joined Goldman Sachs to advise on Brexit. 
The appointment, less than two years after he left the commission, raises concern "given the importance of his former role and the global power, influence and history of the bank with which he is now connected," EU Ombudsman Emily O'Reilly said in a letter dated Sept. 5 to Barroso's successor, Jean-Claude Juncker. 
On the Markets
The pound's resilience following the buoyant economic data is encouraging some sterling pessimists including Deutsche Bank AG to exit bets for sterling to fall. 

And Finally...
Britain's universities have take a hit from Brexit. Uncertainty over immigration rules and research funding means they suffered in the QS World University Rankings, according to the Guardian newspaper. Cambridge fell out of the top three for the first time since the league table began 12 years ago, and 37 other places of higher learning in the U.K. also slipped down the list of 400. Massachusetts Institute of Technology, Stanford University and Harvard University were top.
For more on Brexit follow Bloomberg on Twitter, Facebook and Instagram, and see our full coverage at Bloomberg.com