Young Beijing Critics Secure Seats in Hong Kong Legislature
By and
One leader of 2014 pro-democracy protests among those elected

Opposition appears to retain power to block key legislation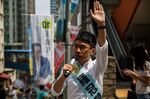 Hong Kong candidates seeking a vote to decide the future of Chinese rule won seats in the city's legislature for the first time amid record turnout Sunday, giving them a new platform to challenge Beijing.
Former student protest leader Nathan Law and "localist" Sixtus "Baggio" Leung, whose parties advocate self-determination, joined Hong Kong's 70-member Legislative Council, the Electoral Affairs Commission announced Monday. Yau Wai-ching, another member of Leung's party, also secured a legislative seat in the biggest election since the pro-democracy Occupy protests two years ago.
"Two years ago, I would never have thought I'd be here this morning," Law, 23, said on Monday in a Hong Kong convention center where hundreds of candidates gathered to await official results. "But I believe that with every new generation there's a need for different people to fill in for what's needed."
The entry of more-radical parties like the one headed by Law helped swell the number of candidates in this year's election to a record, even as some worried about a split in the loosely aligned "pan-democratic" camp. Early returns showed the opposition would nonetheless preserve its one-third membership in the chamber, allowing them to block legislation such as government proposals that would allow Beijing to vet leadership candidates and restrict criticism of the central government.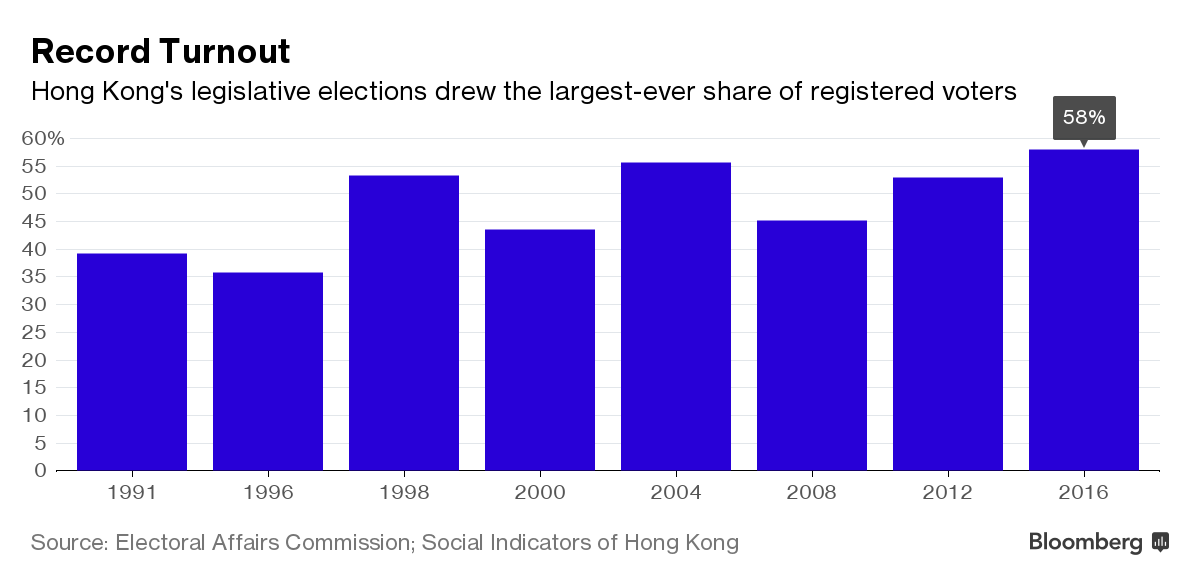 About 58 percent of registered voters turned out, the most since the city held its first direct legislative elections in 1991. The increased interest seemed to buoy candidates supporting self-determination for Hong Kong after 2047, when China's guarantee of a "high degree of autonomy" expires. Results were being announced at an exhibition center near Hong Kong International Airport strewn with noodle cups and chip packets as counting dragged on for hours longer than expected.
Law, 23, who becomes the city's youngest ever lawmaker, said that advancing a vote on Hong Kong's post-2047 future would top his legislative agenda. While victory gives Law and other newcomers a public stage to trumpet their views, their ability to introduce bills is limited, and they mainly approve or reject legislation put to them by the government.
Umbrella Movement
Law was sentenced to 120 hours of community service last month after a Hong Kong court convicted him and fellow student leader Joshua Wong, 19, of illegally taking part in an assembly outside the government headquarters, which triggered the Occupy movement in 2014. Tens of thousands of students drew international attention that year when they used umbrellas to block police pepper spray in pro-democracy protests sometimes called the "Umbrella Movement." 
The rallies -- and their failure to extract election concessions from the Beijing-backed government -- spawned a more radical "localist" movement seeking a sharper break with China, including self-determination and even independence. While the government barred six candidates from running in the legislative election in a bid to squelch the independence effort, some made it onto the ballot. 
For a QuickTake explainer on Hong Kong's autonomy, click here
Pro-independence activist Edward Leung, who was blocked from running, threw his support behind Youngspiration candidates Sixtus Leung and Yau. "Hong Kongers enjoy the freedom of expression to and are entitled to discuss the sovereignty of their home and their own future," Yau, 25, told reporters.
A Chinese University of Hong Kong poll released in July found that more than 17 percent supported independence after the current framework for Hong Kong's autonomy expires in 2047. Fewer than 4 percent considered the outcome possible.
Overall, the results signaled a shift toward youth in the legislature, with older veterans swept from office. Holden Chow, the 37-year-old vice chairman of the largest pro-Beijing party, pledged to work with the new-look opposition Monday as he appeared set to win one of five citywide "super seats."
"With so many new faces in the forthcoming LegCo term I would insist on communicating with people of different views," Chow said, referring to the legislature. "That would be important to reconcile between the two camps."
The results could impact Hong Kong Chief Executive Leung Chun-ying's ability to implement his agenda and get re-elected by a committee of 1,200 largely pro-Beijing insiders in March. Still, Hong Kong Television Network Ltd. Chairman Ricky Wong, an independent who campaigned for Leung to be replaced, lost his bid for a seat in the legislature.
— With assistance by Fion Li, and Simon Lee
Before it's here, it's on the Bloomberg Terminal.
LEARN MORE