business
Venezuela Opposition Aims to Take Protest Outside of Caracas
By and
Mobilizations come after President Maduro heckled in Margarita

Caracas residents asked to support protest for 10 minutes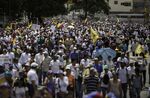 Venezuela's opposition is looking to build the momentum of protests against President Nicolas Maduro with more demonstrations this week planned outside of the capital, after it said around a million people marched through Caracas on Thursday.
Still, it was Maduro's hostile reception during a walk-about on Margarita Island on Friday evening, when protesters chased him through the Villa Rosa district banging pots and pans, that may give the opposition the biggest boost.
"We're interested in reinforcing what's happening from Caracas to the rest of the Venezuelan provinces," opposition alliance secretary Jesus "Chuo" Torrealba said Monday in comments broadcast on the Globovision television network referring to the events planned for Wednesday. "Some are calling it the Villa Rosa effect." 
The release of a video of Maduro being chased by angry protesters was widely shared on social media over the weekend after it was posted on Twitter by opposition leaders including Henrique Capriles. The incident brought back memories of 2014, shortly before nationwide protests erupted, when Maduro was booed in public by crowds attending the opening of the Caribbean Series baseball tournament being played on the island.
QuickTake Venezuela Revolution
Venezuela's Information Minister Luis Jose Marcano said in posts on his Twitter account that the video of Maduro being heckled was "manipulated." He posted a different video of a smiling Maduro waving his hand to supporters.
Six-hour protests scheduled for Wednesday will focus on areas outside of Caracas, as the opposition demands that the National Electoral Council publish the conditions needed to start collecting signatures for a referendum to remove Maduro from power. In Caracas, residents will be asked to support the protest by stopping for 10 minutes around lunchtime. The opposition needs to collect signatures from 20 percent of the electorate to trigger the vote.
"We just gathered over a million people in Caracas, and it wouldn't make a lot of sense to call another mobilization of such a scale after such little time," Torrealba said. "This 7th in Caracas, there will be 10 minutes of protest. Wherever you are, whether it be at home or in the office, in traffic or on the metro, we're going to stop for 10 minutes."
Journalist Detained
Braulio Jatar, a journalist who edits the Reporte Confidencial website that is often critical of the government, was charged with money laundering Monday after he was detained on Saturday as his website published information about what happened in Villa Rosa, according to his defense lawyer Diomedes Potentini.
"There was no crime and they did not present any evidence," Potentini said in an e-mailed response to questions.
Venezuela's Supreme Court, meanwhile, on Monday issued a ruling that nullified any acts passed by the opposition-controlled National Assembly since it reinstated three disputed lawmakers on July 28, further deepening an institutional standoff in the country.
Before it's here, it's on the Bloomberg Terminal.
LEARN MORE