Trudeau Says Chinese Didn't Raise Canada Investment Restrictions
By
Canada 'happy' to listen to any concerns from China: Trudeau

Chinese companies face more severe investment restrictions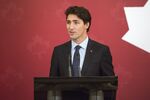 Canadian Prime Minister Justin Trudeau said Chinese officials didn't bring up the issue of investment restrictions during his one-week visit, while indicating he would be open to a discussion on the matter.
Trudeau spoke to reporters in Hangzhou, China, following the Group of 20 summit. Last week he held bilateral talks in Beijing with leaders including Chinese Premier Li Keqiang and President Xi Jinping.
Many Chinese companies, particularly the country's state-owned enterprises, face more severe investment restrictions than Canada's more traditional trading partners like the U.S., amid worries over governance issues and state influence. Trudeau's bid to improve relations between the two countries had raised speculation he would loosen some of those requirements.
"That specific issue didn't come up, wasn't brought up by the Chinese in my meetings," Trudeau said. "But we're always happy to listen to questions and concerns the Chinese may have, and we're always looking to create opportunities for Canadians and Canadian businesses."