Taliban Blasts Kill 24 in Deadliest Attack in Kabul Since July
By
More than 90 others wounded in bombings near Defense Ministry

Bombings come amid a political spat between Afghan leaders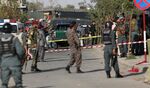 Two bomb blasts claimed by the Taliban killed at least 24 people outside the Afghan Defense Ministry on Monday, the deadliest attack in the capital Kabul since July as the government remains stymied in a political deadlock.
"The group targeted the Defense Ministry with two blasts - a bomb explosion and a suicide attacker," Sediq Sediqi, a spokesman for Interior Ministry, said by phone. "The second blast was carried out as security officials rushed to gather to the scene of the first explosion for help."
The attack is the worst since Islamic State claimed to carry out suicide bombings on a peaceful demonstration in Kabul, killing more than 80 people. It's also the latest since three unknown militants stormed the American University of Afghanistan in Kabul last month. That assault killed 13 people and was the deadliest on a civilian educational center since 2001 when the Taliban regime was ousted by American forces.
For an explainer on the Afghanistan conflict, click here.
More than 90 other people were also injured in Monday's bombings, which took place during rush hour, with the casualties included civilians, soldiers and police, Sediqi said. An army commander, a senior police official and two bodyguards of President Ashraf Ghani were among the dead, Zabihullah Mujahed, a Taliban spokesman, said on Twitter.
Political Bickering
"The enemies of Afghanistan have lost their ability to fight the security and defense forces of the country and thus attack highways, cities, mosques, schools and common people," Ghani said in an e-mailed statement on Monday.
The recent uptick in attacks come as the Taliban gains ground and is increasing its hold on territory across the country. Ghani and Afghan Chief Executive Abdullah Abdullah are also embroiled in a spat that threatens a U.S.-brokered power-sharing accord between the two leaders after a disputed election two years ago, which risks sending the nation into further chaos.
For an analysis on Afghanistan's political deadlock, click here.
The rift between Ghani and Abdullah has attracted criticism from political parties, business leaders and ordinary Afghans as a September deadline for political and constitutional reform looms. Abdullah has accused Ghani of not implementing the power-sharing accord that aimed to prevent a possible civil war following the last election.
The agreement says Ghani must agree to hold a Loya Jirga, a traditional national assembly of elders and politicians, to amend the constitution and create the position of prime minister for Abdullah.