Putin Keeps Faith in Gazprom Even After 80% Share Crash
by and
Russian president says Gazprom is "clearly undervalued"

Gazprom remains sure of its markets even as output falls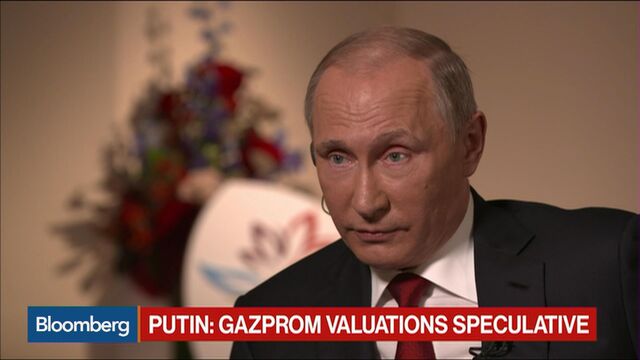 To read this story in Russian, click here
Perhaps no organization outlines the strengths and weaknesses of Vladimir Putin's Russia better than Gazprom PJSC, the giant energy exporter that emerged from the Soviet Union's gas ministry.
The company employs over 400,000, holds the world's biggest gas reserves and generated more than a $1 trillion in revenue in the past decade. Yet, over the same period its stock-market value crashed more than 80 percent in dollar terms as the state-run company was wrong-footed by the rise of shale gas in the U.S., economic stagnation in its largest European customers and the crash in oil prices.

In an interview, Putin said he was unconcerned by the company's share price and argued for the durability of Gazprom as a state-run enterprise and its central role in Russian life.
"Gazprom is clearly undervalued -- this is an absolutely obvious fact," he said in Vladivostok last week. "We have no plans to sell it yet, and this is because of the peculiarities of the Russian economy, the social sphere and the Russian energy industry."
To read a QuickTake on Vladimir Putin, click here,
Putin is also loyal to Gazprom's leadership. Chief Executive Officer Alexey Miller, an associate of the president from his time in the St. Petersburg mayor's office, has been in the post for more than 15 years and was recently appointed for another five-year term.
In 2008, Miller said Gazprom could become the world's first trillion-dollar company. Since then, its market capitalization has fallen from more than $300 billion to less than $50 billion. Once Russia's most valuable company by market capitalization, it was surpassed this year, first by the nation's biggest crude producer Rosneft PJSC and later by the largest bank, Sberbank PJSC.
Asked to compare Miller to a general who'd lost 80 percent of his army, Putin said the comparison didn't stand up.
"Listen, that's a different story," he said. "If we were talking about a general, then the general in this case would have lost nothing, he's sent it into reserves, which can be called back at any moment and put to use."
Sixteen years after Putin first assumed the presidency, Gazprom stands as an example of his conservative approach to economic reform even as Russia remains mired in the longest recession in two decades.

Gazprom maintains its monopoly on pipeline exports of gas despite the lobbying of rivals including state-run Rosneft, headed by Putin's long-time ally Igor Sechin, and Novatek OJSC, co-owned by another associate, Gennady Timchenko.
Putin has kept faith because he knows that Miller is completely loyal to him, said Vladimir Milov, an opposition figure who was deputy energy minister in 2002.
"In fact, Putin is the acting CEO of Gazprom," while Miller acts as his representative in everyday business, he said.
In last week's interview, Putin expressed optimism about Gazprom's future. Sales are increasing to European customers as the region's domestic production declines, the company's building its first pipeline to China, and the outlook for global gas demand is strong, he said.
"Despite the development of alternative energy, when you still look at the economic element and environmental standard demand, then there is no other source of primary energy in the world other than natural gas," he said. "There is a country that is, obviously, the world leader in gas reserves. That's our country, the Russian Federation."
Gazprom has increased its European exports by 10 percent to a record high this year as gas prices drop -- its export prices are mostly linked to oil with a time lag of as much as nine months. The company's market share in the region reached a peak of 31 percent last year and it's still growing, Miller said on Friday in Vladivostok.
Yet, Gazprom's overall gas sales are falling. It's been squeezed in Russia by domestic rivals whose lack of export rights make them dependent on the market at home. The Ukrainian market, once one of its largest, is almost lost amid political conflict and long-time pricing disputes.
Even in Europe, Gazprom may face challenging times in next two years as competition between suppliers intensifies on increased shipments of liquefied natural gas from the U.S. and elsewhere, according to the International Energy Agency.
Miller's undeterred.

"There are lots of factors affecting the markets, but as to fundamental factors Gazprom finds itself very confident," Miller said in an interview in Vladivostok on Friday. The company is sure of its position both in Europe and Asia, aiming to keep its dividends at least at the previous year's levels, he said.
That optimism hasn't found its way to investors. The shares gained 0.5 percent to 136.24 rubles by 3:08 p.m. in Moscow, remaining almost unchanged this year while Russia's benchmark index has rallied 14 percent.
"Gazprom has classic symptoms of monopoly disease" including under-investment and opaque spending as well as sluggish reactions to market changes, said Vladimir Miklashevsky, senior strategist at Danske Bank A/S in Helsinki. It's not a "normal commercial company, it's a black box," he said.
Gazprom is diligently carrying out the duties the state has assigned it: supplying households and power plants across the country, especially in the freezing winter months, Putin said.
The government is aware of the gas giant's problems, Putin said. "I know that Gazprom's management is taking the necessary steps to resolve these issues and that it fights for its interests on world markets. Whether it does that well or poorly? That's another question."
On the question of what the market thinks, Putin doesn't care: "We know what Gazprom is, what it's worth and what it will be worth."
Before it's here, it's on the Bloomberg Terminal.
LEARN MORE