Obama Reassures Asia of U.S. Commitment Despite Trade Woes
By and
Small Laos site of final visit to region of his presidency

President touts Southeast Asian record as bright spot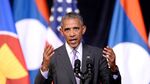 President Barack Obama looked to reassure Asian nations that the U.S. commitment to the region would endure as concerns grow over China's increasingly visible presence and the ability of Congress to pass the Trans-Pacific Partnership.
U.S. interests in the region were "not a passing fad," Obama said Tuesday during a speech in Laos, pledging that "in good times and bad, you count on the United States." The trip to a small, landlocked Southeast Asian nation that the U.S. had largely forgotten since the end of the Vietnam War was the first by an American president. It was intended as the capstone on his administration's foreign policy rebalancing in the region.
"The United States is more deeply engaged across the Asia-Pacific than we have been in decades," Obama said in Vientiane. "We've sent a message that we're here to stay."
Obama's attendance at a regional summit lacked the fanfare and drama of previous Asian trips -- including a Vietnam visit earlier this year that drew huge crowds -- and came amid new challenges to American influence in the area. China's military has been more active in the disputed South China Sea and the country has promised hundreds of millions of dollars for infrastructure and other investment.
Laos Aid
Still, the White House was hopeful that new engagement with Laos would symbolize the ways America could increase its role in the Asia-Pacific region. Obama announced that he was doubling funding for to help Laos remove unexploded Cold War-era ordnance, with the U.S. providing $90 million over the next three years.
"Today I stand with you acknowledging the suffering and sacrifices from all sides of that conflict," Obama said, adding that, "from the anguish of war there came an unlikely bond between our two peoples."
The president also said the U.S. would bring the first lady's girls education initiative to the country, expand teacher exchanges, and improve internet access in a nation where only 16 percent were connected. U.S. companies including Microsoft Corp. and General Electric Co. will provide increased training in emerging technology and engineering fields.
Gaining Influence
Obama's trip to Laos "sends a message about where the U.S. is gaining influence in the region," said Brett Bruen, president of the Global Situation Room consulting firm. "While it may be a small country, it also can be an indicator of how the U.S. is hopefully on a trajectory to strengthen its relations not only with Laos but with the region more broadly."
For an explainer on the free-trade debate, click here.
Rather than being the architect of a lasting trade agreement covering 40 percent of the world's economy, the legacy of Obama's pivot to Asia may be a warmer reception and more open relationship with Southeast Asian nations such as Laos that in recent decades have been more likely to cozy up with China than the U.S.
Under Obama's watch the U.S. has secured greater access to Vietnam, both strategically and economically. It has renegotiated access for its military in the Philippines, and built a regular calendar of joint naval exercises with Southeast Asian nations. It flies surveillance flights over the South China Sea from planes that are maintained in Singapore.
Duterte Flap
But the behavior of new Philippine President Rodrigo Duterte suggests potentially tricky times ahead. Duterte has called out the U.S. for its criticism of him over his war on drugs that has seen a spike in the shooting of suspected drug dealers. On Monday, he said that Obama would need to listen first and talk second during a meeting planned between the two leaders in Laos, warning that if Obama questioned him, "I will curse you in that forum."
Hours after those comments from Duterte, the White House announced that Obama had scrapped the meeting, which was scheduled for Tuesday. Duterte later issued a statement expressing regret for his remarks. Ben Rhodes, White House deputy national security adviser, left the door open to the possibility of a meeting between Obama and Duterte at the summit in a briefing with reporters Tuesday.

Southeast Asian nations may not take too kindly to Obama calling them out on human rights. And the U.S. faces a challenge in countries like Myanmar, Laos and Cambodia to displace China's influence. While Myanmar's defacto leader, Aung San Suu Kyi, will visit the U.S. later this month, she just made a trip to China where she spoke of her desire for ties to be "further consolidated and developed."
In Laos, the White House emphasized that Obama wasn't apologizing for U.S. bombing in that country decades ago during the Vietnam War in committing aid to clear unexploded ordinance.
"I don't think its a matter of apologizing," Rhodes told reporters. "This was largely a secret war to the American people. Therefore there wasn't the same degree of public knowledge about what was taking place here and the scale of the bombing."
The U.S. and Laos also pledged to continue to "enhance recovery operations" of remains of 301 Americans who were unaccounted for at the end of the Vietnam War.
Trade Pact Fate
Some Southeast Asian nations have expressed concern about the fate of the TPP, warning it can't be renegotiated. Regional members include Malaysia, Vietnam and Singapore, whose prime minister, Lee Hsien Loong, said in Washington last month that U.S. credibility was on the line over the pact. Economists have said Vietnam's emerging economy would be one of the biggest beneficiaries among TPP nations from its ratification and implementation.
Obama acknowledged those concerns Tuesday, while acknowledging the politics were "difficult" for U.S. lawmakers.
"Failure to move ahead with TPP would not just have economic consequences, but would call into question America's leadership in the region," he said.

The U.S. is looking at other ways to influence the region. Rhodes told reporters in his briefing in Laos that the Obama administration "will continue to look at" sanctions relief to help the economy of Myanmar.
At the same time, Rhodes said the U.S. will press summit attendees to vigilantly enforce economic sanctions against North Korea in the wake of that nation firing three ballistic missiles off its east coast, including one that entered Japan's air defense zone.
"We want to make sure we're cutting off all the lifelines North Korea tries to hold on to," Rhodes said.
Michael Green, senior vice president for Asia at the Center for Strategic and International Studies, noted that every president has made Asia a priority since Richard Nixon opened U.S.-China ties. But Green, a former George W. Bush administration National Security Council senior Asia official, said that "filling in the Southeast Asia piece" was Obama's hallmark.
"Historians will probably say, if they look closely at the rebalance or 'pivot,' that the most significant legacy for the president is going to be engagement with Southeast Asia," Green said before the trip. "This is probably the most deliberate and sustained engagement with Southeast Asia since the Vietnam War."
Before it's here, it's on the Bloomberg Terminal.
LEARN MORE