Obama Says Kaepernick Exercising Constitutional Right on Anthem
By and
Obama says he understands service members', veterans' angst

49ers quarterback has been sitting during national anthem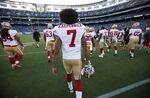 President Barack Obama said San Francisco 49ers quarterback Colin Kaepernick's decision not to stand for the U.S. national anthem before games is both his constitutional right to exercise as well as a stinging symbol to military members and veterans.
"My understanding at least is that he's exercising his constitutional right," Obama said at a press conference following the G-20 summit in Hangzhou, China, noting there's a "long history of sports figures doing so. I think there's a lot of ways you can do it."
Kaepernick has said he is boycotting the national anthem in protest over treatment of people of color in the U.S.
"I am not going to stand up to show pride in a flag for a country that oppresses black people and people of color," Kaepernick said in an interview with NFL Media. "To me, this is bigger than football and it would be selfish on my part to look the other way. There are bodies in the street and people getting paid leave and getting away with murder."
His protest has drawn condemnation from a number of players and coaches, as well as politicians -- including Republican presidential candidate Donald Trump.
"I think it's a terrible thing," Trump said in a radio interview with Seattle's KIRO. "And, you know, maybe he should find a country that works better for him. Let him try, it won't happen."
While Obama stopped short of criticizing the player, he said he understands the feelings of those who are offended by his actions.
"As a general matter, when it comes to the flag and the national anthem and the meaning it holds for men and women in uniform and those who fought for us, that is a tough thing for them to get past to then hear what his deeper concerns are," Obama said. "But I don't doubt his sincerity."
For Obama, the issues raised by Kaepernick are tricky waters to navigate. The president has tried to reconcile minority communities increasingly angered by police violence in the aftermath of a series of high-profile officer-involved killings against his support for law enforcement, often to the dissatisfaction of both sides.
The White House has called on law enforcement agencies to help address systemic racial disparities by adopting a series of recommendations on improving community relations, openly sharing data, and removing incentives on arrests and convictions.
Before it's here, it's on the Bloomberg Terminal.
LEARN MORE