Merkel to Fight for Her Refugee Policy After Election Defeat
by and
I'm responsible' for slumping public trust, chancellor says

Chancellor said to be 'full of plans' in bid to move forward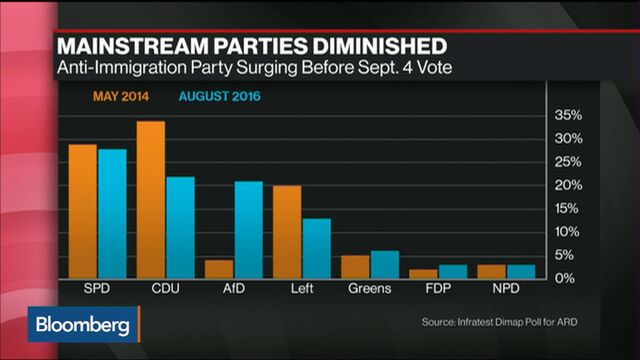 German Chancellor Angela Merkel vowed to stand by her refugee policy after her party was defeated in a state election, saying she's "very dissatisfied" with the result and will move ahead to try to win back public trust.
Pivoting to domestic politics while attending the Group of 20 summit in China, Merkel gave a defiant impression and "was full of plans how to solve this crisis" when she got on a conference call with other leaders of her Christian Democratic Union in Berlin on Monday, Elmar Brok, a senior CDU member, said in a Bloomberg Television interview.
The same attitude came through a few hours later when reporters at the G-20 meeting asked Merkel about the defeat in the eastern region of Mecklenburg-Western Pomerania, where the CDU finished behind the anti-immigration Alternative for Germany party for the first time in a state ballot. With her defense of open borders under attack, Merkel made it clear that she isn't budging.
QuickTake Europe's Refugee Crisis
"Of course this has something to do with refugee policy," Merkel told reporters. "I'm the party chairwoman, I'm the chancellor. In the eyes of the public you can't separate that. So I am responsible. Still, I believe that the decisions were the right ones and now we have to keep working."
Alternative for Germany, or AfD, rode public anxiety about last year's record influx of about 1 million asylum seekers and resistance to Merkel's defense of open borders to a 21.8 percent share of the vote on Sunday, leaving the CDU in third place with 19 percent. The Social Democrats, who have governed the state since 1998, won with 30.6 percent.
'Best Offer'
Frauke Petry, the AfD's national co-leader, said she expects Merkel to seek a fourth term in elections due in the fall of 2017 -- a prospect that could be a boon for the party.
"If that's the best person they have to offer, then that's just fine by us," Petry said in an interview in Berlin.
Merkel hasn't declared whether she'll run again and repeated on Monday that she'll make the announcement at the "appropriate time." Last week, she said that a fourth candidacy would be tied to whether she decides to seek re-election as party chairwoman in a ballot set for a party convention in December.
"I have not the impression that she wants to give up," said Brok, a CDU lawmaker in the European Parliament and member of the party's executive.
Merkel hasn't benefited from a decline in migrant arrivals compared with last year's record. While her government projects some 300,000 refugees will enter Germany in 2016, Merkel said there's a gap in public perception that she intends to address.
"We have to recognize that many people at the moment don't have sufficient trust in our ability to resolve the issue, even though we've made a lot of progress," Merkel said. "The task now is to work intensively on winning back trust. And I'm convinced that this can only be done by showing that we can solve these problems."
CDU Strengths
Even if stung by defeat, Merkel has no obvious successor waiting in the wings and her CDU-led bloc still leads in all national polls.
"Angela Merkel has led this country successfully through many crises," CDU General Secretary Peter Tauber told reporters. "Party members trust in her to do so in the future. We all will do well to rely on her."
Before it's here, it's on the Bloomberg Terminal.
LEARN MORE