Hanjin Shipping Will Seek Asset Stay Orders in 43 Countries
By
Company sought court protection after lenders stopped help

South Korean regulator says Hanjin owners should do more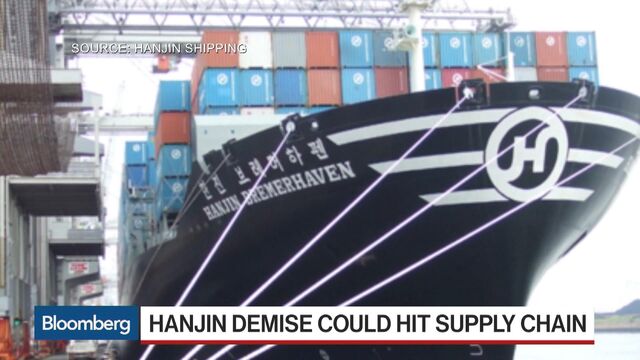 South Korea's financial regulator said Hanjin Shipping Co. will seek stay orders in 43 countries to protect its vessels from being seized, after its court receivership filing last week roiled companies' supply chain before the year-end shopping season.
Applications in 10 countries will be made this week and the remainder soon, the Financial Supervisory Commission said in a statement Monday. Hanjin Group, owner of the shipping line, should also take more action to account for the "chaos" caused to the shipping industry, FSC Chairman Yim Jong Yong said in comments confirmed by a spokesman.
Vessels of Hanjin -- the world's seventh-largest container carrier with a 2.9 percent market share -- are getting stranded at sea and ports after the box carrier sought protection, hurting the supply of LG Electronics Inc. televisions and other consumer goods ahead of the holiday season. Hanjin Shipping shares resumed trading Monday limit down and during the session erased losses to rally as much as 18 percent, before closing lower. Any optimism may be misplaced, said Park Moo Hyun, an analyst at Hana Financial Investment Co. in Seoul.
"Retail investors are hoping for the best on false hopes," Park said. "They think that government measures to help resolve the supply-chain disruptions could mean it's also supporting Hanjin Shipping. They don't seem to realize that that's the wrong conclusion."
Operations Disrupted
The commission said 79 of Hanjin's vessels, including 61 container ships, have had their operations disrupted. Hanjin Group Chairman Cho Yang Ho and Korean Air Lines Co., the shipping company's largest shareholder, should take steps to ease the disruptions, Yim said.
Hanjin Shipping declined to comment on the applications for stay orders and Yim's comments. Korean Air also declined to comment.
Shares of Hanjin Shipping fell 14 percent to close at 1,070 won in Seoul, cutting its market value to 262 billion won ($237 million). The stock tumbled 24 percent on Aug. 30, when trading was halted. The Seoul Central District Court accepted the company's filing for receivership on Sept. 1 and asked for a revival plan to be submitted by Nov. 25.
While shares of Hyundai Merchant Marine Co. dropped 3.6 percent in Seoul Monday, other container lines in Asia such as Orient Overseas International Ltd., Nippon Yusen KK, Mitsui OSK Lines Ltd. and Kawasaki Kisen Kaisha Ltd. all rallied.
Easing Disruptions
The government will focus its efforts on easing the supply-chain disruptions by finding ways to get cargo unloaded from Hanjin's ships worldwide, Vice Finance Minister Choi Sang Mok said at a briefing Monday. After the goods are unloaded, they will be sent on other ships or by land to customers.
The government doesn't plan to inject public funds or provide guarantees for Hanjin's debt to prop up the company, Choi said.

Hanjin's woes show the container-shipping industry hasn't recovered from the troubles it has been facing since the 2008 global financial crisis hurt trade. Companies in the industry have shed people, tried to merge with their rivals and cut costs.
Even so, rates to move boxes from Asia to the U.S. and Europe haven't revived.

Hanjin on Sept. 2 also filed for bankruptcy protection under Chapter 15 at the Bankruptcy Court in Newark, N.J.
As of Sunday morning, 68 Hanjin vessels were stranded out at sea or at port in 23 countries, including one ship arrested in Singapore, according to the company. The Korean liner owns 59 of the 132 container and bulk ships in its fleet.
For U.S. retailers, Hanjin's filing brings concerns about delivery of goods ahead of the Thanksgiving and Christmas holiday shopping. Goods sail about 10 days to reach Los Angeles from Asia, and could take as many as 30 days to Rotterdam.
The chains are working to minimize delivery disruptions from cargo waiting to depart Asia, traveling on the ocean or arriving at ports, Jonathan Gold, vice president for supply chain and customs policy at the National Retail Federation trade group, said last week.
Meanwhile, Hyundai Merchant, the second-largest container shipping company in South Korea, said it plans to add four vessels to the U.S. starting later this week, and nine on Europe routes this month.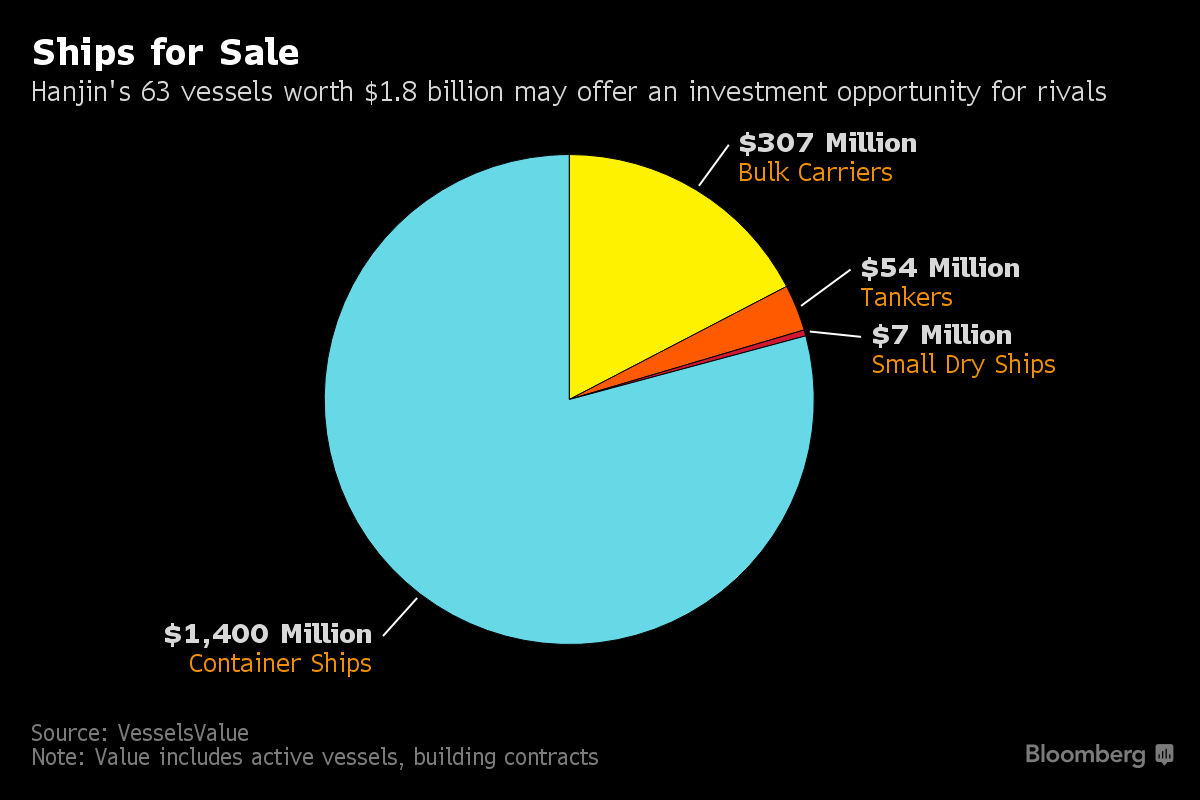 Hanjin's $1.8 billion in vessels also offer a takeover opportunity.
"Hyundai Merchant Marine seems to be the most likely buyer," said William Bennett, analyst at VesselsValue.com. Such a deal may also boost the 2M vessel-sharing alliance led by A.P. Moeller-Maersk A/S that Hyundai Merchant is due to join in April, he said. Hyundai Merchant has said it will consider buying some of Hanjin's assets, including ships.