Firms With Fewer Stocks on Offer May Find Friend in the BOJ
By and
Basket of six companies to outperform Topix, says Daiwa

Yahoo Japan, Chugai Pharma among beneficiaries of ETF buying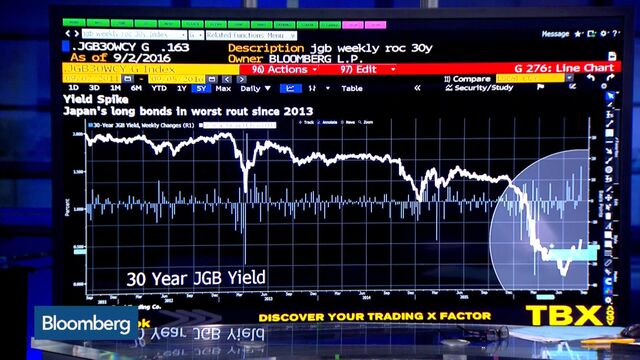 The Bank of Japan's exchange-traded fund purchases will add a scarcity premium to closely-held shares in Tokyo, says Daiwa Securities Group Inc.
Yahoo Japan Corp., Sumitomo Dainippon Pharma Co. and Chugai Pharmaceutical Co. are among equities that will beat the benchmark gauge following the BOJ's near doubling of its annual budget for ETFs, according to Daiwa. That's because they don't have as many shares freely available to trade, quantitative analysts at the brokerage say. While the stocks' performance has yet to prove Daiwa's strategy, the firm says the benefits should kick in within six to 12 months.
"When there are fewer stocks that can be bought in the first place, a solid continuation of BOJ buying will make sure those companies keep rising," Masahiro Suzuki, senior quant analyst at Daiwa, said in an interview in Tokyo last week.
The BOJ increased its yearly target for ETF purchases to 6 trillion yen ($58 billion) from 3.3 trillion yen in late July as it seeks to revive Japan's stagnant economy. The central bank's buying of funds tracking the price-weighted Nikkei 225 Stock Average means that stocks such as Fast Retailing Co., which have a larger representation in the gauge than they would in a free-float adjusted measure, win a bigger slice of the cash.
Daiwa points to a basket of six firms that's set to outperform: Fast Retailing, Yahoo Japan, Sumitomo Dainippon Pharma, Chugai Pharmaceutical, NTT Docomo Inc. and Matsui Securities Co. They're the companies in the Nikkei 225 with the lowest free float ratios, according to Tokyo Stock Exchange calculations.
For a story analyzing the Bank of Japan's ETF buying, click here.
Fast Retailing, the operator of Uniqlo clothing stores, had a free float of 25 percent of outstanding shares as of Sept. 1, according to bourse data compiled by Bloomberg. The average for the six stocks is 27.5 percent, against an average of 55 percent for companies in the Topix and 70 percent for those in the Nikkei 225.
The performance of the companies has been mixed. Year to date, the basket is down about 6 percent on average against a 13 percent drop for the Topix as of Tuesday. Since the BOJ announced July 29 it would accelerate its purchases, four of the six picks have fallen. That compares with a 3.5 percent advance for the Topix and a 3.7 percent gain for the Nikkei 225.
Daiwa's Suzuki says it hasn't been long since the BOJ boosted its ETF budget, and the central bank hasn't bought in any great amount as yet. It will take some time for the effects to come through, he said.
Before it's here, it's on the Bloomberg Terminal.
LEARN MORE