Duterte Outburst Raises Doubts Over Planned Obama Talks in Laos
By and
Duterte says he will curse Obama if he raises drug war issue

Philippine president has pushed a war on illegal drugs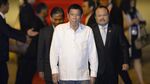 U.S. President Barack Obama declined to say if he would proceed with a meeting with Philippine counterpart Rodrigo Duterte this week in Laos after Duterte unleashed an expletive-laden spray, warning America against interfering in a war on drugs that's led to the deaths of thousands of suspects.
Speaking to reporters in Davao before he left Monday for an Association of Southeast Asian Nations summit in Laos, Duterte warned his anti-drugs campaign was an internal matter. He indicated that a previously-announced chat with Obama could prove a testy affair, saying if Obama questioned him "I will curse you in that forum."
"Who is he? I am the president of a sovereign state and we have long ceased to be a colony," Duterte said. "I only am answerable to the Filipino people who elected me as president."
Asked at a briefing in Hangzhou, China, at the end of a G-20 summit about Duterte's comments, Obama said "clearly he's a colorful guy." Describing the Filipino people as some "of our closest friends and allies," he said he was talking to his staff to see if "this is a time we can have some constructive, productive conversations."
"I always want to make sure that if I'm in a meeting, it's actually productive and we're getting something done."
Drug Deaths
Duterte has been defiant toward international criticism of his anti-drug campaign, which has left about 2,400 dead in the two months since he took office. He's lashed out at statements from the United Nations and the U.S., responding to comments from U.S. Ambassador Philip Goldberg by calling him a homosexual. That prompted Washington to summon officials from the Philippine Embassy to complain.
"I don't want to pick a quarrel with Obama," the Philippine leader said, while criticizing the U.S.'s own "terrible record" on so-called extrajudicial killings. He accused it of treating migrants poorly.
While combating illegal drugs was difficult, the U.S. would always assert the need for due process, Obama said. Asked by a reporter to confirm if he would go ahead with the Duterte meeting, Obama just replied to say the issue of fighting drug traffickers was a serious one.
Duterte has defended his campaign as a matter of national security, calling illegal drugs a pandemic that must be wiped out by the Philippines at any cost.
"Nobody has a right to lecture me," Duterte said. "God, do not do it. We will end up disrespecting each other if you do that to me."
The war on drugs will continue and many will be killed "until the last pusher is out of business," he said.
— With assistance by Justin Sink
Before it's here, it's on the Bloomberg Terminal.
LEARN MORE