Treasuries Climb, Nasdaq Hits Record as Fed Hike Wagers Decline
by , , and
U.S. services sector gauge unexpectedly drops to six-year low

Asian index futures mixed as yen jump weighs on Japan outlook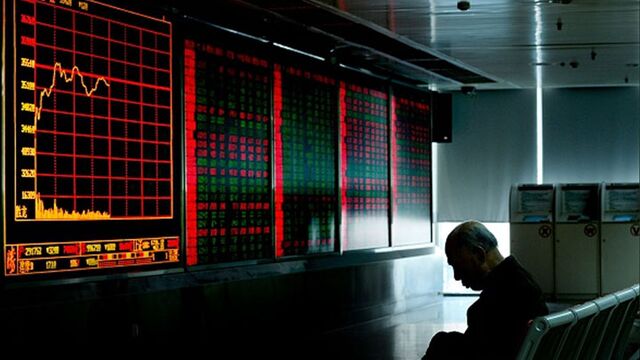 Treasuries rallied, while the dollar slumped after data showing anemic expansion in U.S. services industries bolstered speculation that the Federal Reserve will keep interest rates lower for longer. The Nasdaq Composite Index climbed to a record high.
U.S. bond yields fell across maturities and the greenback dropped against most of its major peers as traders pared bets on a September hike from the Fed to 24 percent, according to futures data compiled by Bloomberg. Gauges of both developed and emerging-market shares rose to their highest levels in at least a year. The dollar's retreat boosted the allure of commodities, spurring gains in gold and a rebound in New York-traded crude oil.

The American services sector expanded at its weakest pace in six years last month, data that jolted U.S. markets out of a state of limbo after Friday's lukewarm reading on August payrolls. The slowdown in what is a key U.S. industry raises questions about the strength of the world's largest economy, fueling speculation the Fed will hold off on raising borrowing costs in September. The first month with better-than-even odds of a hike is December.
"This just confirms the suspicion that as much as the Fed may want to hike this year, the data has to be there," said David Tulk, head of global macro strategy in Toronto at Toronto Dominion Bank, which forecasts no U.S. rate hikes this year. "If the data continues to soften heading into the FOMC meeting, expectations will be pared back and Treasuries will continue to rally."
The Institute for Supply Management's non-manufacturing index slumped to 51.4, the lowest reading since February 2010, and down from 55.5 in July. Other less-than-stellar U.S. figures reported recently include an ISM survey that showed contraction in manufacturing, evidence of a slowdown in hiring, automobile sales falling short of forecasts, and an gauge of consumer sentiment slipping to a four-month low.
To read more about Tuesday's services data, click here.
Currencies
The Bloomberg Dollar Spot Index, which tracks the currency against 10 major peers, retreated 1 percent as of 4 p.m. in New York, the biggest decline in five weeks.
"The last two ISM reports have been shockingly weak, and I think the case for the Fed to hike this month becomes increasingly more difficult and unlikely," said Mazen Issa, a senior foreign-exchange strategist at Toronto-Dominion Bank in New York. That's being reflected in a falling U.S. dollar, he said.
Uneven economic data for the U.S. may exacerbate the greenback's 5.1 percent slump this year by dimming expectations that monetary policy will further diverge from that of the Bank of Japan and the European Central Bank. In a world where an increasing number of government bonds yield less than zero, high-yielding currencies have become attractive alternatives.
Australia's dollar rose for a fifth day, its longest winning streak since March, after the country's central bank held interest rates, which have already been cut to a record low. South Africa's rand led gains among the world's major currencies after data showed the nation avoided a second recession in seven years as mining and factory output rebounded.
Brazil's real surged the most since June as investors took advantage of the country's relatively higher interest rates. Borrowing dollars to buy the real has returned 34 percent this year, the most among more than 40 currencies tracked by Bloomberg.
Bonds
Yields on U.S. Treasuries due in a decade retreated seven basis points, or 0.07 percentage point, to 1.54 percent. Rates on two-year notes, which tend to be more sensitive to the monetary policy outlook, dropped six basis points to 0.73 percent.
The services data "suggest that the market will be tipping towards no Fed hike in September," said Aaron Kohli, a fixed-income strategist at BMO Capital Markets Corp. in New York. Shorter maturities will lead gains until "we get either a Fed speaker or additional data to counteract that view," he said.
Longer-dated U.K. government bonds pared an earlier advance as the Bank of England's latest attempt to get investors to part with the securities in its quantitative-easing program met with more offers than at a previous operation.
Spanish 10-year securities rose for a third day even as the probability of a third round of general elections in December increased after Acting Prime Minister Mariano Rajoy lost a second confidence vote in the parliament last week.
Stocks
The S&P 500 Index rose 0.3 percent, holding in a narrow range in post-holiday trading. The Nasdaq Composite added 0.5 percent to a fresh all-time high, with gains led by Amazon.com Inc. and Facebook Inc.
Mergers dominated corporate news Tuesday, boosting energy and health-care companies. Spectra Energy Corp. rallied to a two-year high after agreeing to a $28 billion stock-for-stock transaction with Enbridge Inc. Cepheid jumped 53 percent after Danaher Corp. agreed to buy the company in a deal valued at about $4 billion, including debt.
MSCI's World Index of developed-country stocks climbed to the highest level since August 2015, while emerging-market shares rallied 1.5 percent.

The Stoxx Europe 600 Index erased gains, falling 0.3 percent after the U.S. services data. Investors were also awaiting Thursday's ECB meeting, with most economists predicting President Mario Draghi will lengthen quantitative easing for a second time and leave rates unchanged.
Futures on Asian indexes were mixed following the dollar's pullback. Contracts on Japan's Nikkei 225 Stock Average dropped more than 0.8 percent in Osaka and Chicago amid a 1.4 percent surge in the yen. Futures on indexes in Australia and Hong Kong also retreated, while those on the FTSE China A50 Index and South Korea's Kospi gauge climbed.
Commodities
The Bloomberg Commodity Index extended a back-to-back advance to 1.6 percent amid the slide in the dollar.
Gold futures for December delivery posted their longest rally since Aug. 2, rising for a third straight session. Platinum futures had their biggest advance in more than four months as gains in the rand spurred speculation that production costs will rise.
West Texas Intermediate oil for October delivery rose 0.9 percent from Friday levels to close at $44.83 a barrel on the New York Mercantile Exchange. Because of the U.S. Labor Day holiday, electronic transactions from Monday were booked with Tuesday's for settlement purposes.
Brent oil fell 0.6 percent after a pledge by Russia and Saudi Arabia to cooperate in stabilizing the market failed to include specific measures to support prices. Saudi Energy Minister Khalid Al-Falih said there was no need to freeze production right now.
"The failure of Russia and Saudi Arabia to take any steps to support the market is sending us lower," said Bob Yawger, director of the futures division at Mizuho Securities USA Inc. in New York. "The Saudi oil minister actually talked the market lower, which is going to cost his country billions." 
Before it's here, it's on the Bloomberg Terminal.
LEARN MORE