Photographer: Mark Schiefelbein/Pool/Getty Images
business
Brexit Bulletin: Theresa May Plays Her Own Tune
Some of her cabinet colleagues probably won't be happy.
By
Theresa May is setting her own terms for post-Brexit Britain.

During her weekend trip to China for her first G-20 summit, the U.K. prime minister was dismissive of the proposal by Boris Johnson, now her foreign secretary, for a "points-based" immigration system. May also refused to endorse the suggestion that she withdraw from the single market for trade.
The comments drew attacks from those who were keenest to quit the bloc such as former UKIP Leader Nigel Farage. Downing Street held firm, declaring an Australia-style system "will not work and is not an option."
"I'm going out there to get the best possible deal," said May, who also acknowledged "difficult times ahead" for the British economy.
Her comments were followed by a ComRes poll for BBC Radio 5Live that found 62 percent of British adults are positive about Britain's future, although 26 percent said they have considered moving elsewhere.
Busy Diary
The return of parliament means a packed agenda of speeches and statements as well as hopefully more clues as to what the U.K. will seek in negotiations.

Brexit Secretary David Davis today makes his debut statement in the House of Commons since taking office, and will declare that pulling out of the EU is an "historic and exciting" opportunity. 
Bank of England Governor Mark Carney speaks on Wednesday and Chancellor Philip Hammond on Thursday. The House of Lords also hosts committee hearings on financial services on Wednesday and trade on Thursday. EU President Donald Tusk is also due to meet with May.
Also today there will be a Westminster debate–without a vote–on a petition to hold a second referendum, even though May has publicly rejected this as an option.
It's Cold Out There...
Most foreign governments had warned against pressing the Brexit button, and at the G-20 they showed no signs of reversing their positions.
President Barack Obama said he stood by his pre-referendum warning that a U.K. trade deal wasn't a priority, expressing hope international business relations don't "unravel" because of Brexit.

Prime Minster Shinzo Abe today said his companies need more certainty about Brexit after his government published a 15-page document outlining their worries. It warned that the European headquarters or operations of some of its firms–which include Toyota, Nissan and Nomura–could leave the U.K. if it was unable to preserve strong ties with the single market.
Away from the G-20, Italy's Economic Development Minister Carlo Calenda told Bloomberg Television that the U.K. needs to hurry up and decide how to exit, while European Commission Vice President Valdis Dombrovskis said it was not up to the U.K. to pick and choose its new terms. Both spoke at the Ambrosetti Forum in Cernobbio, Italy.
Meanwhile, Austrian Chancellor Christian Kerntold said in Vienna that the U.K. won't win any easy concessions on immigration.
...Although It's Warm in Australia
Australian Prime Minister Malcolm Turnbull gave May some relief as he said on Monday that his government is keen to clinch a commerce accord as soon as the U.K. leaves the EU. He even offered to provide officials to advise on trade policy, given that Britain hasn't negotiated a pact alone since the early 1970s. Australian ministers are visiting London this week.
"Britain has an enormous amount of work to do to put in place new free trade agreements," said Turnbull. 
Rebound Britain
A gauge of U.K. services jumped the most on record in August.
That adds to evidence of an economic rebound following the initial Brexit shock and also to pressure on Mark Carney. He's preparing to make his first public appearance since the Bank of England unleashed a barrage of stimulus.
He will face some lawmakers who campaigned for Brexit and will probably be quizzed on whether–given recent robust economic data–he acted too quickly in response to the referendum result, did too much, or went too far with his pre-vote warnings.
"Carney's almost certainly going to get it in the neck, or get a lot of stick, from the Brexiteers," said Grant Lewis, an ex-U.K. Treasury economist now at Daiwa Capital Markets in London. "He'll probably focus on further out and what the impact will be going in to next year."

On the Markets
The pound rose to a seven-week high against the dollar after the services data, while stocks were little changed after trading on Friday at their strongest in three weeks. 

And Finally...
If Brexit is making you pine for a simpler time, Quercus will soon publish "Five on Brexit Island,"a parody of the "Famous Five" children's books by Enid Blyton. As per the blurb:
"It is the night of the referendum and the Five have retired to Kirrin Island to enjoy the fresh air and sunshine, fed up with the rancour of public debate. George is firmly a 'remainer,' whilst Julian, who is in the 'Brexit' camp, is tolerated on the grounds that Anne cannot bear to go camping without him."
There's no word on what they would have made of free trade negotiations down at Smugglers' Cove.
Watch Next: The Immigration Challenges Facing Brexit Negotiations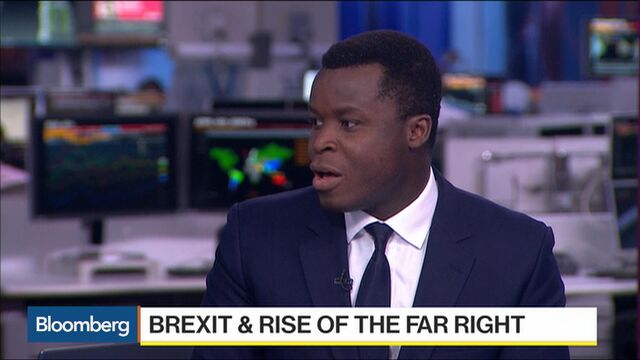 Before it's here, it's on the Bloomberg Terminal.
LEARN MORE