Banks' Commodity Woes Deepen as Energy and Metals Earnings Hit
By
Raw-materials income at 12 top banks fell 25% in first half

Banks' risk levels reduced 'quite substantially': Coalition
It's looking like another bad year for the biggest banks when it comes to commodities.
Revenue from raw materials at Goldman Sachs Group Inc., JPMorgan Chase & Co. and 10 other top banks slid 25 percent in the first half to $2.2 billion from a year earlier, according to analytics firm Coalition Development Ltd. That was the lowest first-half amount in at least half a decade amid a "lackluster" performance across energy and industrial metals, the company said in a report on Tuesday.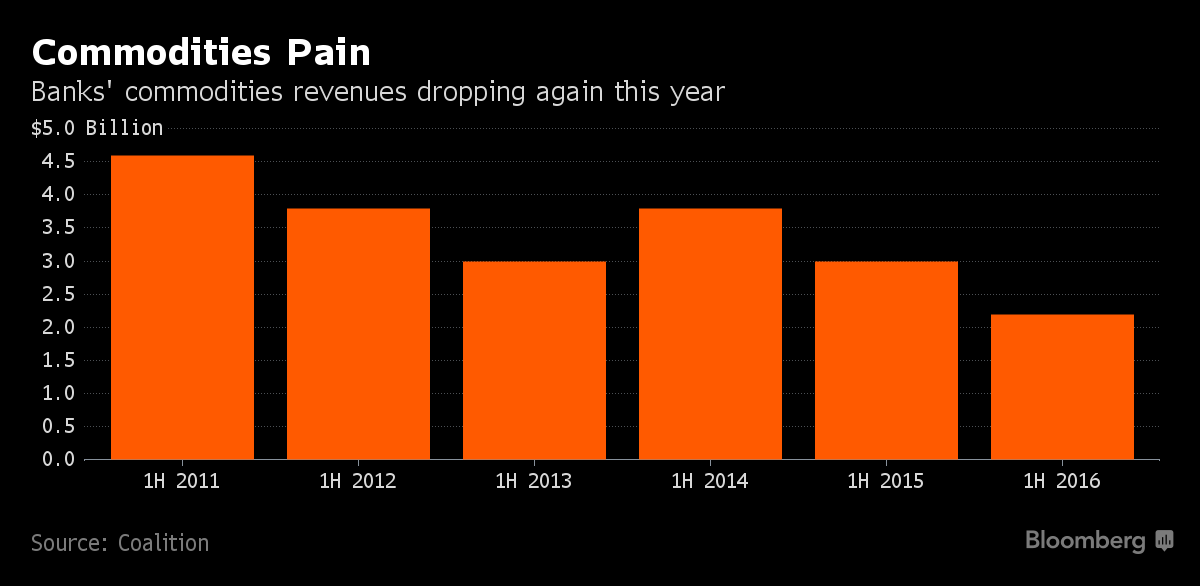 Institutions have scaled down or abandoned their commodities businesses over the past few years amid more regulatory scrutiny and reduced investment by their hedge-fund clients and other large traders. While commodities have recovered since the start of the year, banks are still under pressure to cut their exposure to energy with oil trading at half the price it was two years ago, according to George Kuznetsov, head of research at London-based Coalition.
"We are comparing a relatively strong first-half last year in oil," Kuznetsov said by phone. "This year, there are limits these guys have. The amount of business they can take has to be significantly smaller. Their risk levels have been reduced quite substantially across the board."
Annual Declines
Banks' commodities income slumped 40 percent in the first quarter. That helped drag down first-half revenue across fixed income, commodities and currencies by 11 percent to $38.2 billion, Coalition said. The drop was tempered by earnings in precious metals that were up "slightly" due to increased client demand, Coalition said.
Combined revenue from raw materials slid 18 percent to $4.6 billion last year, the lowest in more than a decade, and down about two-thirds from the banks' moneymaking peak in 2008.
Coalition tracks commodities activities including power and gas, oil, metals, coal and agriculture. Other banks included in Coalition's research are Morgan Stanley, BNP Paribas SA, Citigroup Inc., Societe Generale SA, Credit Suisse Group AG, Bank of America Merrill Lynch, Barclays Plc, Deutsche Bank AG, UBS Group AG and HSBC Bank Plc.