Agnelli's Goodbye Spells Trouble for Italy's Investments Push
by and
Italy's leading business family moves holding company abroad

Business leaders worry how Renzi can keep, attract investors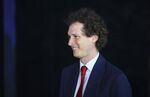 Italy's most iconic business clan is moving abroad, and it couldn't have come at a worse time for Prime Minister Matteo Renzi.
First it was Fiat, then Ferrari. On Saturday, the Agnelli family, the ultimate symbol of Italy's industrial might, voted at a shareholders' meeting to move its Exor holding company to the Netherlands, severing ties with Turin, where it founded carmaker Fiat in 1899. While the family's current head John Elkann denies the move is related to Italy's sliding attractiveness, business leaders wonder if Renzi can keep and lure investors.
Moving Exor's headquarters will transfer only a few jobs to the Netherlands and many Fiats and all Ferraris will still be made in Italy. The move's symbolism, however, is terrible timing for Renzi's reforms. In about two months, Italians will vote on measures to make the country's governments more stable. Renzi has also been pushing reforms to arcane business and government practices, trying to minimize bottlenecks and modernize administrative institutions. 
"It is worrying that the Agnellis are leaving Italy," Riccardo Illy, chairman of coffee maker Gruppo Illy SpA, said in an interview at the Ambrosetti forum in Cernobbio, Italy. While Renzi has sought to ease labor rules and reform government, "these are not yet sufficient to retain holding companies like the Agnelli family's," he said.
Fiat Chrysler Chairman Elkann, 40, insists the move is a natural progression for the group and that far from severing ties with Italy it has investment plans in the country including auto plants and a new stadium for the soccer team Juventus.
"Exor has most of its assets based in the Netherlands so this move is an evolution" to simplify the corporate structure, said Elkann, descendant of the founder of Fiat, after investors gathered for the last time at the firm's 1920s Lingotto building in Turin, a former car plant with an oval track on its roof.
Promoting Italy
Since taking office over two years ago, Renzi has traveled the globe to promote his country and has brought businessmen like Facebook co-founder and CEO Mark Zuckerberg to Italy.
During Renzi's tenure in office, foreign investments jumped fivefold to 74.7 billions euros ($ 83.26 billions), according to slides posted on the government website last week. Still, Italy remains low on the World Bank's ease-of-doing-business list and fell back one spot in 2016 to number 46. The Netherlands, Spain, Armenia and Belarus all earned better scores.
"Renzi has been luring foreign capital, as his missions abroad are road-shows to appeal to international investors," said Giuliano Noci, deputy dean for China at Milan's Polytechnic. "Yet Italy remains a very complex and bureaucratic place for doing business and Renzi needs to simplify the system to keep multinational companies here."
Byzantine System
Investors are often put off by Italy's Byzantine public administration, lengthy delays in any dealings with the judiciary, and concerns about corruption at local and national level.
In contrast, the Netherlands for decades has been home to foreign companies seeking tax and corporate governance benefits. American pharmaceutical company Mylan NV domiciled itself in the country after making an acquisition, then used a Dutch shareholder protection structure to help it fend off a takeover bid last year. 
Elkann said Exor is not moving its base for fiscal reasons. The company's "evolution requested a presence in several different markets, so we chose a country which historically has a series of rules and jurisdictions which are positive for companies with interests in several countries."
Elkann reshaped Exor's portfolio in the last decade, reducing its dependence on Europe to a third of its revenues from 75 percent. Last year, he bought the Bermuda-based reinsurer PartnerRe, in its biggest single acquisition in more than a century, and a majority stake in the Economist magazine.
Tighter Grip
The Dutch move will also help the Agnelli family tighten its grip on Exor, as it adopts a loyalty-ownership program that gives stronger voting rights to long-term shareholders. The Agnellis have already done that with Ferrari, Fiat and CNH Industrial. Exor, which is Italy's biggest holding company, owns 44 percent of Fiat's voting rights with a 29.15 percent stake, and 33 percent of Ferrari's voting rights with a 23 percent stake.
Renzi's government, which has presented a business-friendly face to the world, will need to take the Agnelli move on the chin. It can draw on the praise it has won from Italian business leaders for Renzi's efforts to help engineer deals involving foreign investors -- from Etihad's investment in the struggling airline Alitalia, to Qatar Air's in its smaller competitor Meridiana.
"The Agnelli family has been very important in Italian culture so I am sorry and a little bit sad, but then what matters is the capacity to invest in Italy," Enrico Giovannini, former Labor Minister under Prime Minister Enrico Letta said in an interview in Cernobbio. "Multinationals do what multinationals do, they try to find the best places to invest and locate their headquarters, so this is part of the competition."
Fiat 500
While moving its headquarters away from Italy, the Agnelli companies have not reduced their investments, plants and workers in the country. Ferrari, which has its fiscal residence in Italy, is still building all its supercars at the Maranello factory. Fiat Chrysler has more than doubled production of cars in Italy after hiring over 1,000 new workers at the Melfi plant in southern Italy to build Jeep SUVs. 
"It's not about Italy's attractiveness; it's a big mistake to look at symbols and then try to extrapolate often fanciful stories," Elkann said.
Still, the decision to move its headquarters away strikes a chord for many. After all, the Agnelli family helped shape Italy's post-war years, from the 1960s when the diminutive Fiat 500 was a symbol of freedom and nascent prosperity, to the 1970s and 1980s when strikes plagued its factories and were the center of the country's social and economic struggles.
"For Turin, the Agnellis' final departure marks the end of an era," said Giuseppe Berta, a professor of economic history at Milan's Bocconi University and former head of Fiat's archive. "Today, we can certify that Italy's Motor Town doesn't exist anymore."
Before it's here, it's on the Bloomberg Terminal.
LEARN MORE